We originally called ahead and were told we could bring Cindi to the Thai restaurant with lakeside seating.  When we arrived, they were about to seat us inside and were going to just tie up Cindi outdoors.  NO go!
We changed plans and headed up to the top level of Lake Arrowhead Village for some scrumptious veggie pizza instead and not such a bad view either.  To their original vegetable pizza we deleted the cheese and added artichokes and extra sauce.  The crust was thin and crispy without it being burnt and the pizza already included peppers, onions and olives.  We ate outdoors in their vast seating area alone (weekdays up here sans snow is just locals) till eventually two young couples with two behaved small dogs joined us outside at a distant table.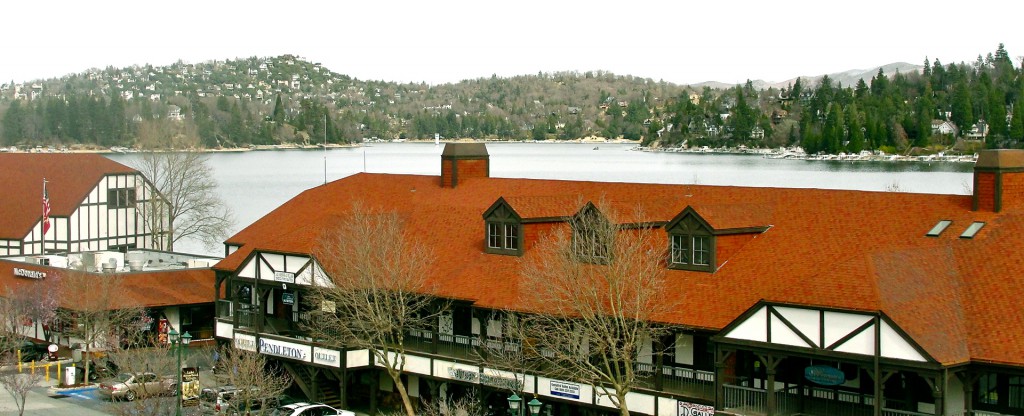 We took a stroll by the shore and a look see inside the Resort, asked about dining with Cindi and then came back home to regroup and drop off our leftover pizza.  Later, we returned to the Lake Arrowhead Resort and Spa for dinner.  Although only service dogs are allowed inside the dining establishment, they were willing to feed us in their sumptuous lobby with various sitting sections which was actually much more private and entertaining.  We hit the gift shop first of course, each of us always enjoying it since we egg each other on with compliments or honest critique.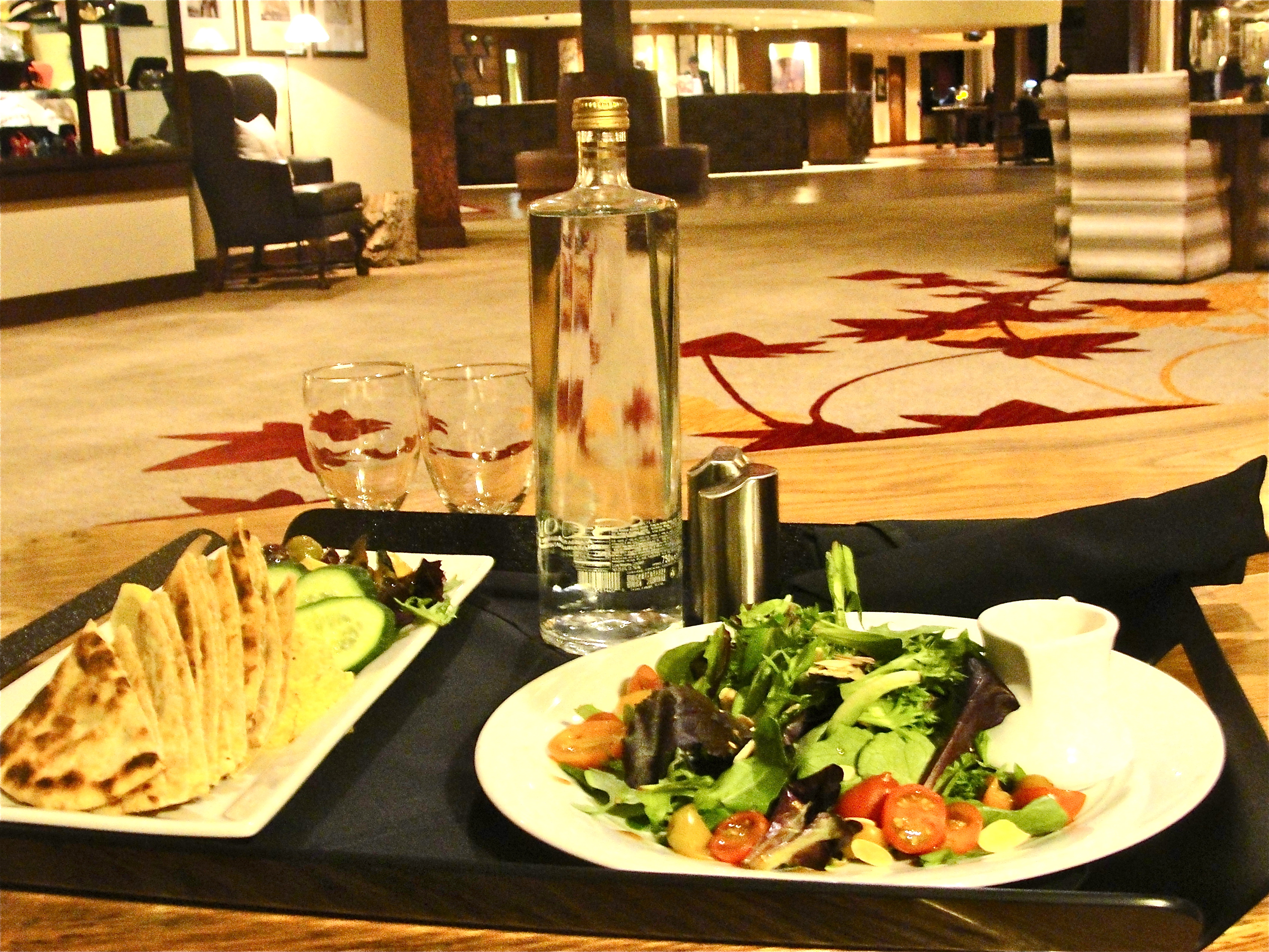 We shared a mixed green salad with cilantro/guava dressing minus the goat cheese. Roasted eggplant, onions and squash accompanied by a garlicky variety of olives sat alongside a healthy dollop of well-seasoned, rustic hummus that we dipped into with grilled pita and thin diagonal cucumber slices.  The Sole sparkly water was a classy, refreshing touch.  From our vantage point we could people watch and Cindi could comfortably, quietly rest on soft, designer carpet.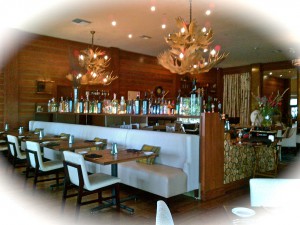 The restaurant inside the Resort.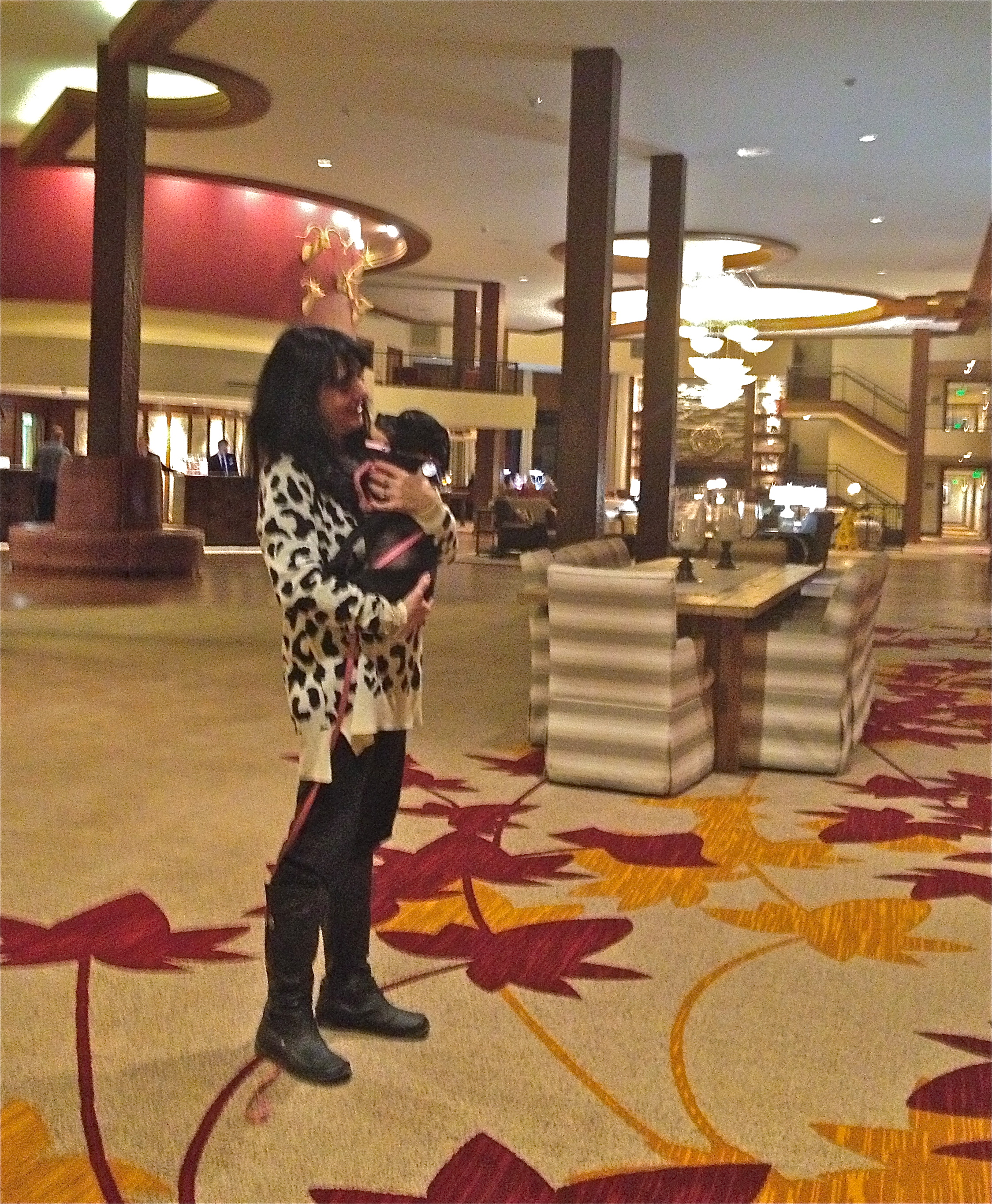 Loving each other up right in front of our dining location in the lavish lobby.