A non-vegetarian friend told me about a vegetarian/vegan eatery she is eating at daily and losing weight because of it.   Go figure.  So, my husband and I finally checked it out yesterday for our Friday night out meal.  The place is funky and decorated with Mead's rustic metal, carved wood and painted art.  Front and center is a green door.
What's great about this location is its proximity and its varied offerings.  They serve eggs, dairy and breakfast all day.  They also have some superb vegan food.  You step up to the counter, order, go find a cozy nook with a table, sit outside in the patio or atop stools at the two bar locations and wait till they call your name when your order is ready.  Super casual, garden fresh and it keeps the price reasonable.
Their straight from the oven baked goods are from both denominations.  We almost tried all the cookies, scones and cakes.    He had the non-vegan chocolate graham cracker brownie and the chocolate covered sugar cookies and I had the vegan sweet potato scone, chocolate chip cookie, walnut drop and kale muffin.  Mmmmmmm.  I had plenty left over for breakfast this morning with my left over juice from yesterday's blog.
For dinner, he had the Hawaiian Pizza with plenty of cheese, pineapple, vegan bacon and a coffee date smoothie.  Meanwhile, I had the Taco Salad with an Italian sparkling water.  Any of the pizzas and most of their selections can be made vegan.   You can choose scrambled eggs or tofu at breakfast, you can add smoky tempeh, vegan chicken or roasted tofu in your salads and they offer many gluten free choices such as type of bread on the menu too.  My taco salad consisted of Roasted Buffalo Cauliflower (which blew me away with its spot on sauce), black beans, corn, the tangiest olives (ever), avocado, pepitas (shelled sunflower seeds) and an exquisite vegan Chipotle Ranch dressing on the side.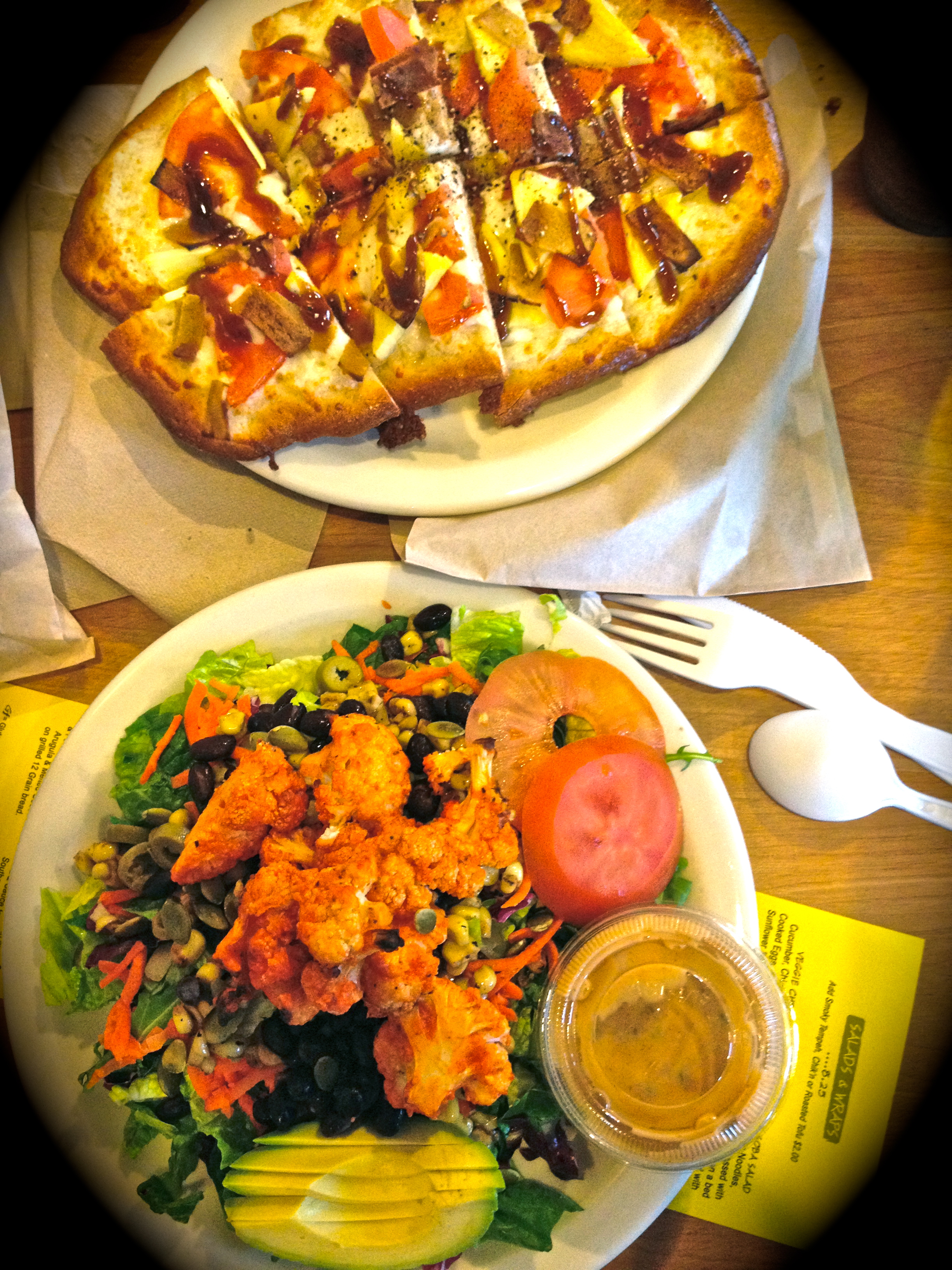 A band was setting up as we were leaving and being so close to both Chapman University and the Orange Circle it must attract an interesting crowd.  I am sure we will be back because we can both enjoy the menu choices equally and the food is pleasantly delectable.  I cannot wait to share this place with others and especially my newly vegan friend from NY when she comes to visit in two weeks.
Next time I would like to try the Blue Plate Special which includes roasted potatoes, house made vegan 'sausage', onions and peppers, all of it smothered in country style gravy.  Or, one of the many daily handwritten specials you don't know about till you get to the counter.