I have written about Native Foods Cafe before but I never had the items I had today before – (except for the dessert-my absolute favorite from their repertoire) and now -the Group/Corporation called Native Foods has put out a new book called Celebration just out  this past month in January of 2014.  This is the second book from Native Foods,  published a little over ten years after the founder's first book of secrets and recipes.
Tanya Petrovna, original owner, started Native Foods Cafe back in 1994 in Palm Springs. She envisioned opening up her own vegetarian restaurant while in college after she learned how to make seitan and tempeh from her UC Santa Cruz house mate.  She traveled to Asia and had a few false business starts before going with her dream of preparing vegan delicacies professionally and opening up a small place.  A year later, she opened up another location nearby in the desert.  Today, there are eight locations in Southern California, three in Chicago, one in Oregon and two in Colorado.
Seitan:  A complete protein made with Vital Wheat Gluten.  Referred to sometimes as "wheat meat".
Tempeh:  An ancient protein, iron rich food made with cultured soybeans and millet (a type of grain).
Thanks to her (and of course others of like minds), a variety of vegan eateries followed and this animal loving, environment friendly, healthy lifestyle has caught on like wildfire in the last five years probably at the same pace or just behind the yoga studios sprouting up every few blocks.
Being vegan is a cruelty free way of life and it awakens you to compassion for all sentient beings as well as the earth we all call 'home'.
As long as you don't eat fried veggies and tons of bread every day it can help you maintain your weight, lose a few pounds or remain healthy – there is not one speck of cholesterol in vegetables or fruits and only coconuts have some saturated fat. You can leave food out on the counter for hours without fretting over spoilage. If you have heart disease, type 2 diabetes, high blood pressure or are overweight, try eliminating animal products and see what happens.  It is worth just testing out and seeing how it feels.
Eating out every day is never wise due to unaccounted for fat and sodium content and it's usually not organic but I have indulged this weekend.   I ordered plenty so I could have a little of everything, report on it and have leftovers for convenience's sake.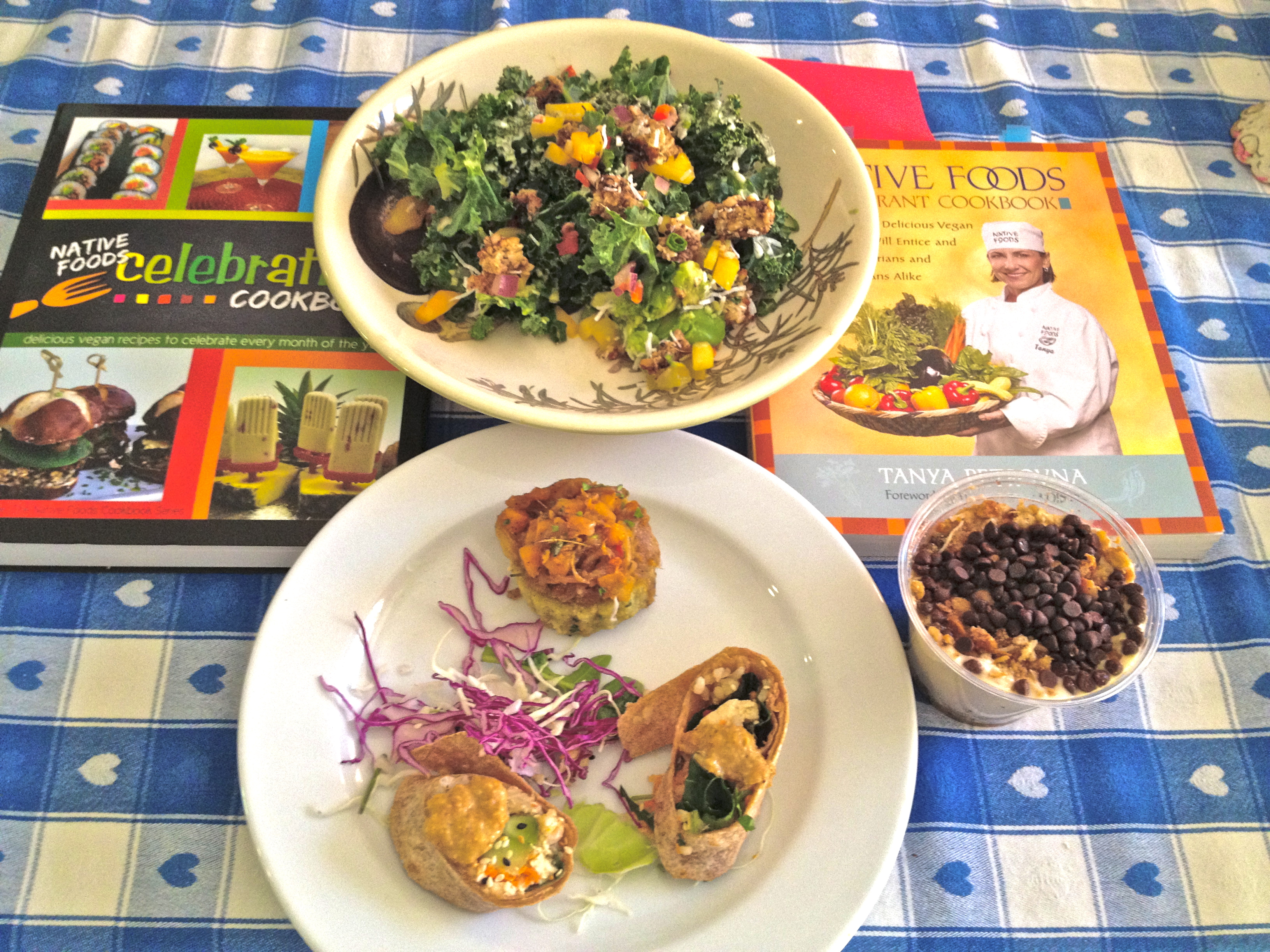 Here we have the two vegan cookbooks, a sampling (there were 6 pieces) of the Saigon Roll (bottom), a Butternut Polenta Bite (there were 3) at the upper top twelve o'clock on the white plate, my favorite peanut butter parfait to the right of the white plate and half a portion of the Caribbean Jerk Kale Salad in the bowl atop the two books.
The Saigon Roll consists of braised lemongrass tofu, lightly pickled daikon and carrot, brown rice, cucumber, cilantro and basil wrapped in whole wheat and served with a tangy peanut sauce.  Scrumptious and small enough for a starter and plenty enough to share.
The Butternut Polenta Bites are pesto baked polenta circles on top of arugula served with roasted squash, caramelized onions and toasted pumpkin seeds (pepitas) atop the crispy rounds.  The corn meal disks were perfect even the next day and there is a recipe in the new book that is a variation on this snack that everyone would love.
The Caribbean Salad is a bed of kale served with Jerk seasoned tempeh (which tastes and has the texture of meat but made with fermented soybeans), avocado, chopped up mango, red peppers and onions.  The dressing is creamy jalapeño cilantro and the whole shebang is topped with chopped green onions (scallions) and shredded coconut.  This was outstanding and a great way for me to eat kale which I am not incredibly a fan of.  Served in this manner and with this explosion of island flavors, I relished eating every last morsel.
You can choose a myriad of starters and sides like 'chicken wings' made with seitan, battered and served with ranch or buffalo sauce or… Earth Bowls made with veggies, grains and 'meats' like the Greek Gyro served with hummus, quinoa, peppered seitan and a lemon garlic sauce and grilled flatbread or…interesting salads…or a Hand Hold like tacos or a reuben or a wrap or a burger or an Italian Meatball Sub – all vegan.
Yummy and can't wait to visit again soon and try out a few of the recipes from the new book too.
Here is my personal opinion (so don't get all mad at me) and I am ashamed of myself for knowing better and still eating animals after I originally became vegetarian in 2007- 2009 and going off and on the vegetarian wagon until committing fully last year for health/weight reasons at first…but…. If you are an animal lover, going vegan is a no-brainer.  This is just my story and journey and I am not judging since I myself have had a going back and forth relationship with this issue.  The reality of what happens to animals that are produced, grown and butchered for consumption would make most people over night converts but even I had my head in the sand, did not want to know or tried to shut it out because I didn't want to give up meat and cheese or eggs and I basically ignored the facts while I happily chewed on dead animal flesh.  I am learning not to be 'polite' about it and just tell it like it is.  This is truth and I am sick of defending why people choose NOT to eat meat or animal secretions.  The bigger question is "Why would you?"  Why not try it and see if it changes you in any way.  Just putting it out there.  I know I will get a few phone calls or astonished e-mails here.  Oh well, I warned you.  That's my rant and I am done, for now.