"For man, autumn is a time of harvest, of gathering together.
For nature, it is a time of sowing, of scattering abroad." – Edwin Teale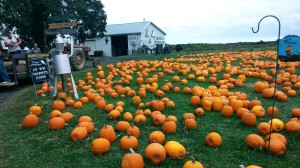 Picture from ML, out east in Orient Point, Long Island, New York
Back east, in the midwest and at higher latitudes, the seasons are defined and you know its is time to pull out your sweater, your closed toe shoes and your light jacket.
Autumn or Fall arrives suspiciously here.  It sneaks up as a tease with cooler mornings, fresher evenings and then disappears during the day, backtracking into high temperatures, unrelenting sunshine and dryness.  Living in southern Cal can grate on your "I need a certain weather to go with the holiday" sensibilities.  Instead of cool, grey days with crispness, we get Santa Ana hot, dry winds and fire warnings.  I have layers of clothes on not because every where is heated when you walk indoors, like back east, but because the day radically changes from comfortable to unbearable in a few short hours.
I think maybe it is time to drive up to the mountains and feel the crisp, clean, fall air.  I am so grateful for my treehouse and my escape valve.
Funny how New Yorkers dream of beachy, sunny weather during the sometimes long, dreary winter but I don't know anyone who wants to escape during the beautiful, colorful, leaf-changing autumn.  On the contrary, people flock to see the leaves on trees afire with sun-kissed hues.
My appointment with yellow, orange and red leaves awaits.   A roaring fire in the evening required.  Happy Autumn!