From Loving Hut, an entirely vegan eatery, I tasted jackfruit for the first time.
I have in the past eaten their:
Lasagna baked with soy protein, zucchini, onion, mushrooms, tomato sauce, Daiya cheese and served with garlic bread and salad.
Guru Curry with tofu, potatoes, carrots, onion, coconut milk and served with brown or white rice.
Spicy Tangy Orange made with soy gluten nuggets, pineapple, bell pepper and onion tossed in orange sauce with rice.
Spring Rolls rolled in rice paper with soy sea nuggets, tofu, lettuce, mint and rice noodles with a peanut sauce.
Spaghetti with mushrooms, tomato sauce, soy protein, onion served with garlic bread.
BBQ Noodle with rice noodle, BBQ soy protein slices and two crispy rolls (tofu, carrot, taro, mushroom and vermicelli) served with fresh chopped herbs, bean sprouts, cucumber, lettuce, fried onions and peanuts accompanied by a chili sauce.
Kung Pao 'chicken'.
All seven desserts (strawberry and Oreo "cheesecake" are my favorites) but my absolute go-to meal is the Jackfruit Salad.
With fresh herbs, soy 'chicken', fried onions, peanuts all tossed in a sweet lemon sauce and served with baked rice papers dotted with sesame seeds, it is a stand out winner and their least caloric choice to boot.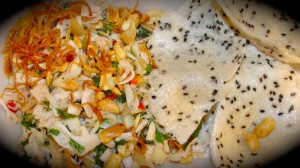 Jackfruit is an Asian tropical treat that is sweet tasting and meaty textured.  It is rich in minerals, fiber and vitamins without cholesterol or saturated fats.  You will be hearing more about this tree borne food as we lose corn and wheat crops due to climate change, according to the UN and the World Bank.
Remember Mad Max, the movie with Mel Gibson?  If we just ate and produced less meat, there would be less methane gas released.  Our industrialization of food in this country alone has contributed more to the global dilemma we are now facing than all the automobiles in the world.
Never mind the heightned awareness and compassion for animals you will experience as you release your need for dead flesh.