Vegan eats weekend in my neck of the woods.  Last night we drove over to Spectrum and I ate at Veggie Grill while Cindi had her Scooby Snacks and the love of my life had a mushroom, caramelized onion and Swiss cheese melt with a vegan corn chowder from Melt.
I started off with my all time favorite comfort food – Mashed potato and gravy (no picture – just devoured before I realized).  It is technically considered a side.
Cauli-Mashed Potatoes + Gravy 3.50 Fresh cauliflower blended with mashed potatoes, porcini mushroom gravy with fresh rosemary!
We sat in the shade on the lower level as there are two outdoor dining options in this in particular food court.  Spectrum has grown and is growing.  We got a great parking spot at 4:30pm on a Friday night and no big lines to eat but when we left people were clamoring for parking and the place was packed and way too crowded for us.
I ordered a new appetizer on the menu that I usually would steer away from because it was battered and fried.  I had to try it though and saved most of it for today's lunch.  Loved the white and black sesame seeds and minced green onions.
Crispy Cauliflower 5.95 NEW! Sweet + spicy, orange-glazed florets, panko breading.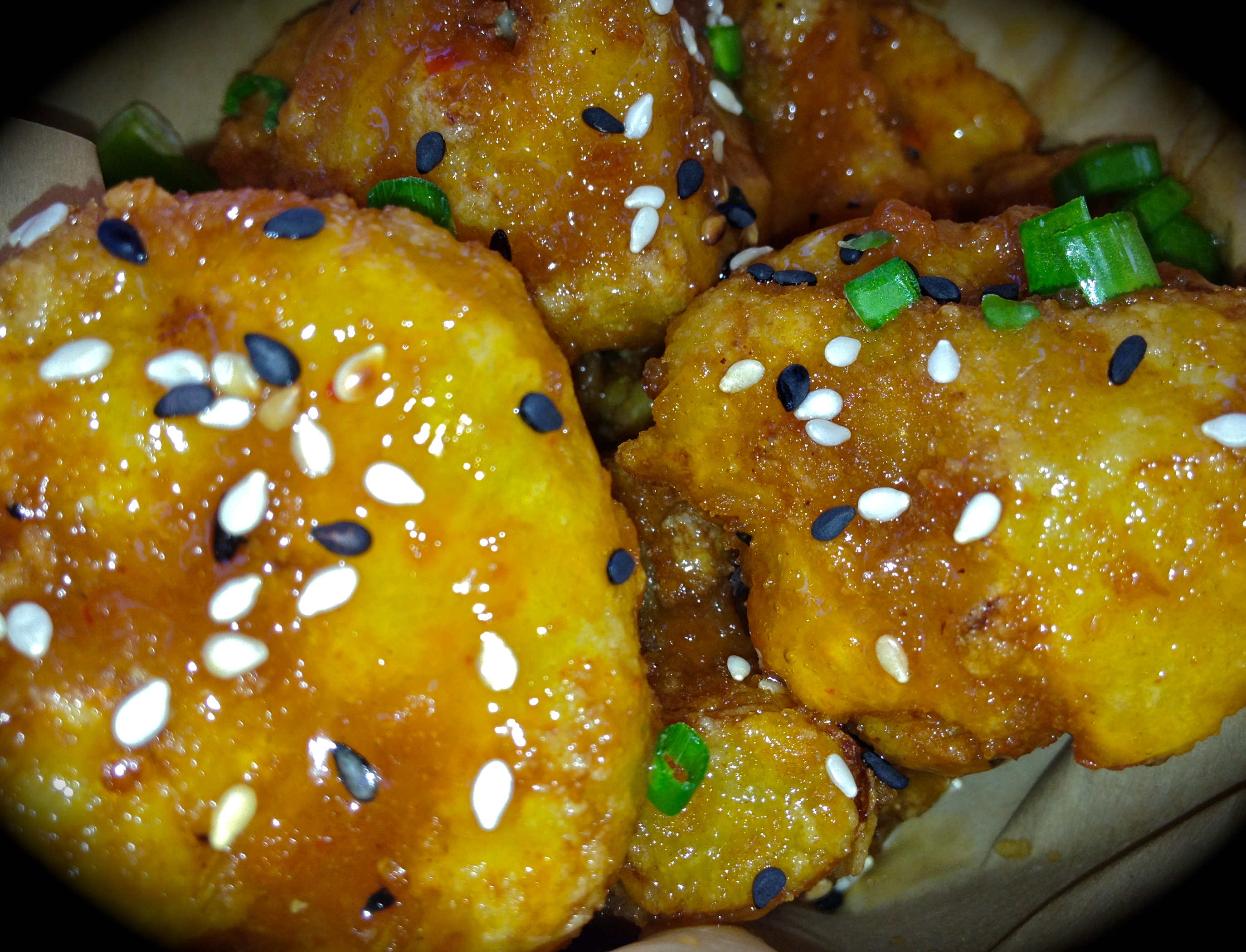 After dinner we walked around window shopping and here and there we walked into a few stores.  By six or so, it got quite crowded and poor Cindi had a hard time maneuvering what with all the people coming and going.  Good thing we had the stroller and she relaxed comfy atop her blankie and just people watched with her paws on the front bar, resting her chin and relying on us to power through crowds.  The stroller also allowed us to stash my leftovers and any thing else we purchased.  There is no need to fear with vegan doggie bags because there is no meat or dairy that can spoil so I always over order and have a handy snack for later or the next day.
For my main meal, I had a salad I just had to have and compare with Native Foods.
B-Wing Salad 10.50
Buffalo Wings over chopped romaine, avocado, celery, roasted corn salsa,
creamy ranch dressing .
Here's my review and comparison:  NF – better 'wings'/VG – better all over salad.
The highlight and the reason you even go to Veggie Grill is for their vegan Carrot Cake.  NOBODY beats it and I have tried everyone's.
Carrot Cake 3.95
Fresh carrots, walnuts, VG cream cheese frosting.
Needless to say, I saved most of my dinner so I could proceed to dessert but I did save a few bites for today but no picture because in my excitement and reverie, I forgot and you don't want a picture of a half eaten cake do you? Hmmmm.  Think I will pull it out of the fridge right now……