"Destiny is not a matter of chance; 
it is a matter of choice. 
It is not a thing to be waited for; 
it is a thing to be achieved." – William Jennings Bryan
Last night, was our last night of the Life Coaching Course!  Woo Hoo!!!
Next, Business course and Space Clearing – Yes!!!
I am totally excited!!!
I have had many purposeful lives and transformations in one lifetime.  I love being of service and giving people support, direction and knowledge to make their dreams come true.  I Love to be creative with solution, options and points of view.  I am proud to be a Life Shift Coach and I am ready to hang out my shingle.  I will be using all of my experiences and resources plus continuing my education.
I can never stop learning, just like a shark can't stop moving, I would perish.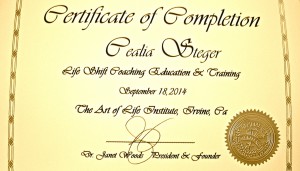 "What you get by achieving your goals is not as important as what you become by achieving your goals." – Zig Ziglar