It took years, tears and squashing of fears to get us two to finally be hitched at the Santa Ana courthouse, 25 years ago, today.  We were basically heathens and eloped.
We sped up Highway 1 North in a rented convertible that we had to switch out because the top would not come up when it inevitably rained on our excursion.  How we reacted, handled and proceeded from that disappointment has set the tone for our journey.
We took off that day, headed for San Francisco, via Pismo Beach and San Luis Obispo.  The Pacific Coast road lines the edge of California.  It skims by the beaches and climbs to the top of crags overlooking Big Sur. Like a roller coaster ride, the scene was set.
We have traveled together holding hands, heads leaning towards each other and touching,  occasionally banging into, thus far.
After many false starts, our 'legal' beginning, our 'piece of paper' became a commitment we were not about to take lightly and it led the way to a life filled with bliss.
With every setback, we trudged ahead and together.  With every turn, we changed course together, sometimes whining, always willing.  With every happy occurrence, we celebrated our good fortune, together.
Every tragedy helped us experience sorrow, grief, anger, remorse, surrender and acceptance in unison, touching each other's hearts with care, carrying it lightly, while holding each other tight for dear life.  Every uplifting experience helped us experience joy, gratitude, forgiveness, empathy and compassion.  The moments in between have been held with a sense of humor, a sense of belonging and exquisite contentedness, I refer to as – bliss.
It has been our outlook together that has kept our sanity.  Having a mutual positive perspective of survival and hope brings two distrustful, negative and insecure people, at times, back into focus.  At any one or many points in time, we are all weak and flawed.  But to have someone next to you, who know you through and through, can lift and center you.  One spans the bridge for the other.  It has been our resolve and our luck, to face life on the same page, or at least in the same chapter.
Surely, the moments of despair, historical significance, time and physical changes have made us resilient but what deepened the meaning of life, and I speak for both of us I believe, has been our children.  To create a family and to have the product of your love continue beyond your existence is not praised or given worth enough.
We instinctively, humbly and sometimes clumsily (they don't come with a reference manual and my husband wouldn't read it anyway), welcomed, raised and support our offspring with love and some semblance of even-handedness between the two of us.  We became a family of five quickly and new challenges, decisions and discussions had to happen.  They are gifts to the world and creative, fruitful, heart-centered and interesting adults we admire, now.
Not every day has been spectacular but each day has been necessary.  There is a balance between difficult and smooth, up and down, the yin and the yang.  What remain true are the love and the need I have for and from my husband.
We have given 200% to ourselves, our lives, our home, our work, our play and our children.  We kept our pledge, through thick and thin.  I believe trust, respect, willingness, humor, flexibility and kindness are just as important as love in our intimate bonding of souls.  May the next 25 years be just as adventurous.
I could not have asked for a more decent, understanding or caring partner.
Happy Anniversary to Mr. Wonderful, the Duke of V.P., my Rock of Gibraltar, my hero, my angel and my tiger.  You have made me proud and more importantly you have made me laugh and feel like a woman who deserves to live life to the fullest.  Thank you.
I have known you forever and yet I have just met you.  I look forward to getting to know you even better, with all the endless facets in your prism that shine, color and enhance my world.
Happy Anniversary, Baby!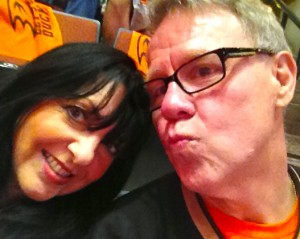 "There is only one happiness in life … to love and be loved." – George Sand