My daughter is staying past her school year to work and intern till June and was actually able to enjoy how exciting and important commencement at Columbia is for Seniors and how proud all of NYC is of them!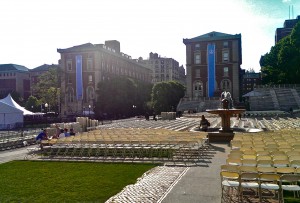 Grounds and view of festivities!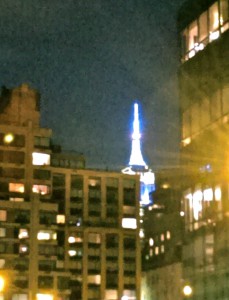 All of New York appreciates the Columbian Grads by lighting up the Empire State in Columbia Blue and White that night. – Go Lions!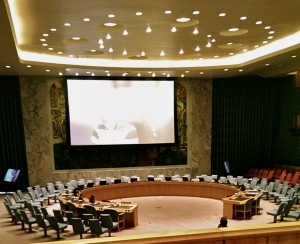 My daughter had the opportunity to visit the UN to attend the open debate about President Bashar al Assad of Syria.  France proposed the hearing to the UN Security Council.  As the president of the International Humane Society, working at Columbia Law School, interning at the International Criminal Courts, editing and managing the Columbian Economic Review, majoring in PolySci and Economics with a concentration in Modern European Violence – I am not sure from where she actually got the invite, but it was her first time and the assembly room looks just as stately as when I visited many, many, many moons ago.  A young woman in this arena, finishing with a 4.0 in her Junior year at an Ivy league, is no small vittles and as a fellow woman who dreamed of becoming an international war correspondent,  I admire her.
Afterwards, she texted that the Argentinean female ambassador was feisty and made their position on future international law crystal clear while China and Russia vetoed.  She said the Russian rep "came across looking like a petulant child, personally attacking France."  She further stated she witnessed the French ambassador handling everything brilliantly and with style (of course- probably was wearing a fashionable scarf too).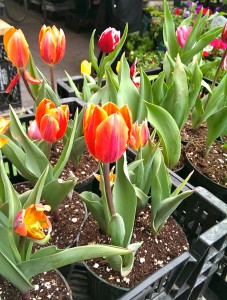 Tulips and all sorts of pretty flowers and plants at the green market in NYC where she shopped today.  Imagine a real life 'Mary Tyler Moore' moment in NYC!  I am so honored, have great respect for and am genuinely happy for this young generation!