Last night, we went to see UCLA vs. CAL or UC Berkeley (official name).  It was my first college game, ever!  I have been to the Rose Bowl before to see Pink Floyd (way back) and The Rolling Stones, but never for the spirit, rivalry, gaiety and sheer fun everyone was having at the football game, last night.
Observations, Warnings and please heed:
1.  It's a hike and a mess to park.  If you park inside the Bowl, it's still a hike and it takes like three hours in line to get in.  If you park outside the Bowl, let's say in a parking structure in downtown Pasadena, on the corner of Union and Pasadena you can pick up a shuttle.  Millions of UCLA students go this route.  We walked.  About two miles.  I noted on my phone the turns and streets we needed to retrace our steps from since I was out of bread crumbs and pebbles.  Another two miles on the way back, later, since I had posted it on my phone, I remembered how to return without the notes, of course.  On the walk we saw The Gamble House, The Pasadena Museum of History and beautiful old estates grown over with ivy and mature trees.  Worth the walk. Bring sneakers.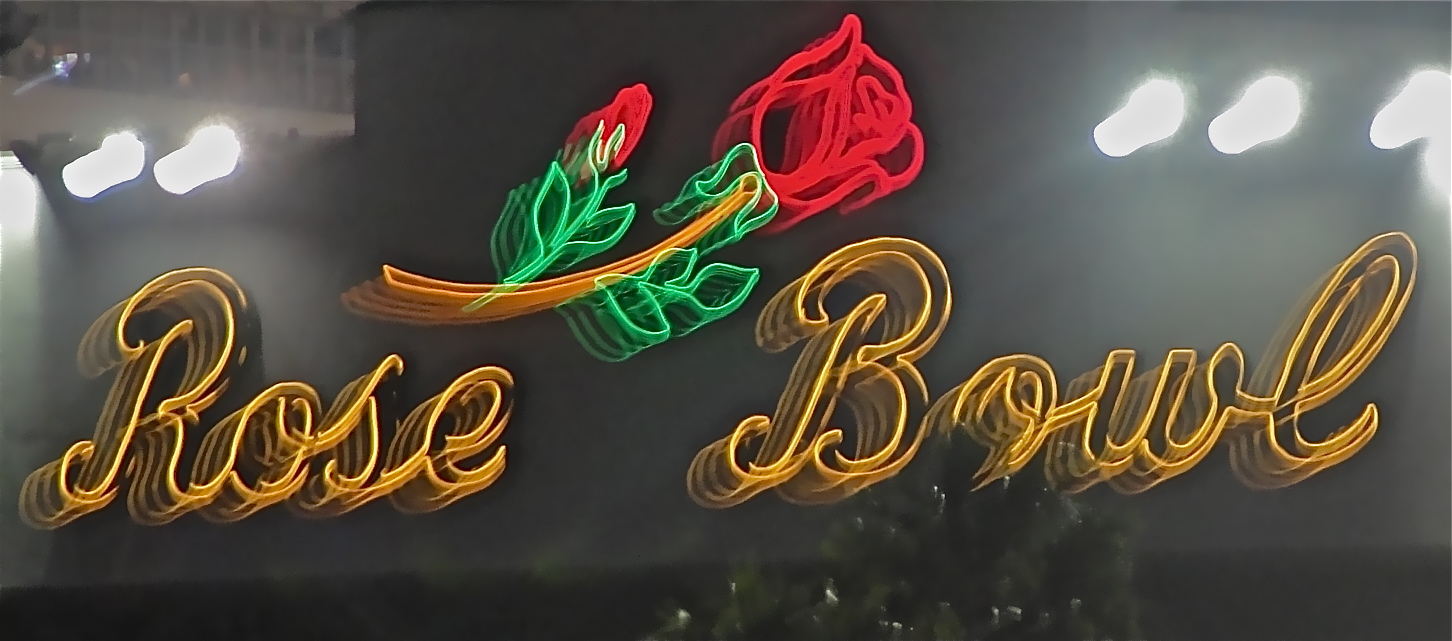 2.  The largess and amount of time and effort that goes into the UCLA pre-game partying is indescribable.  We walked through what I thought was a tailgating party from afar and upon closer inspection realized it was a full scale, organized merchandise and food fest.  It was about three times bigger than the Verizon Wireless fair grounds and completely lathered in baby blue and gold.  I had a Bruins Sweatshirt at home, but I thought we would support our CAL freshman and alumnus children.  I couldn't cut through the festivities fast enough.  I was on enemy grounds.  Note to self, when in Bruinland, wear your UCLA gear.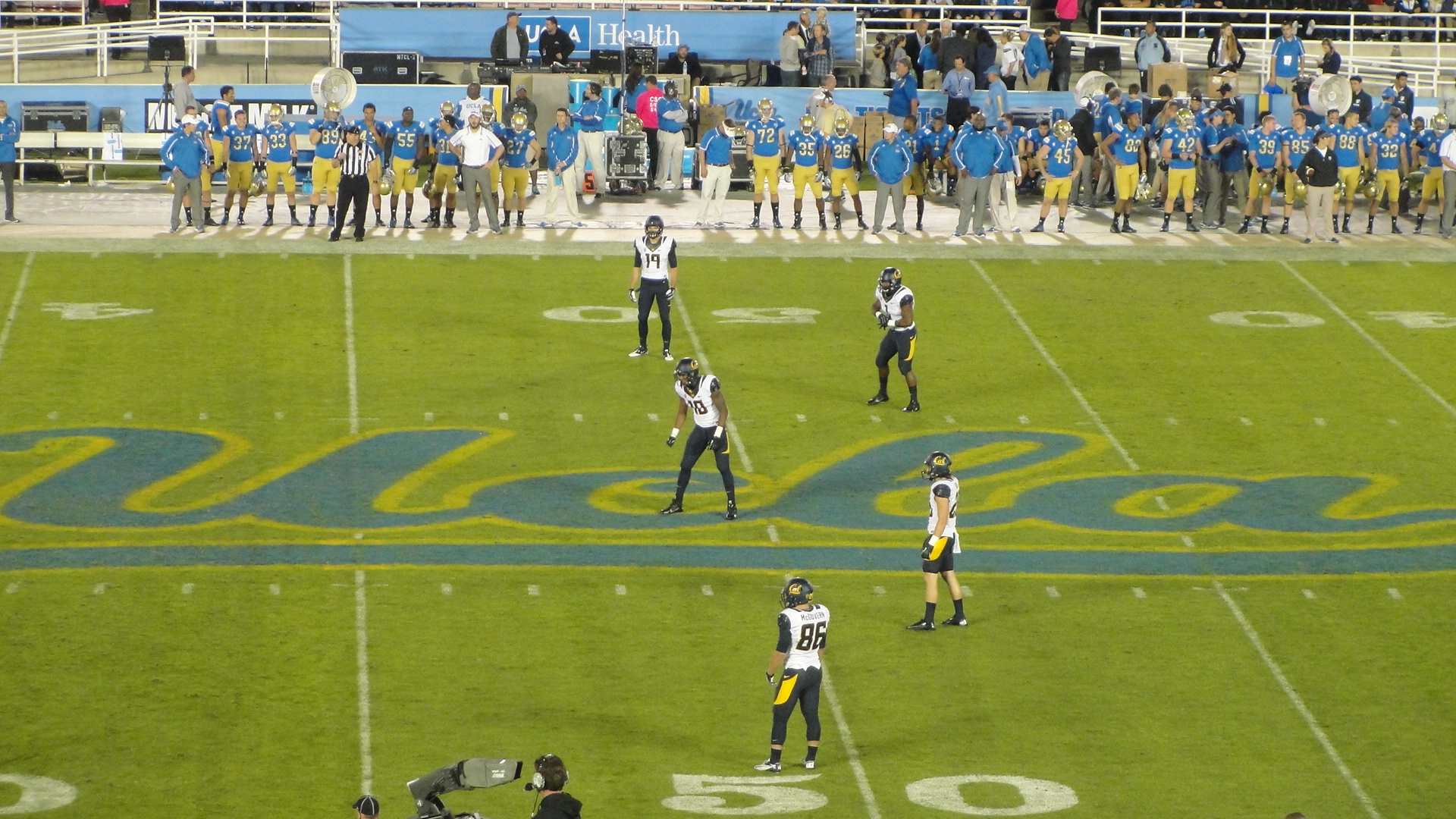 3.  We walked around the entire stadium, looking for food, stopping at restrooms and general sightseeing.  There is no alcohol served because most of the attendees are minors.  It never occurred to me since I saw a lot of heavy drinking outside the coliseum where the Romans were partaking but it was clear you could sneak it in as witnessed precisely in front of where we sat.  Two overly excited, happy guys were sipping and sharing a water bottle containing amber liquid that perfumed the air with bourbon or whiskey fumes.  There are more women's bathrooms than men's and the lines were on the Men's.  Imagine that?  Loved it.  So, no alcohol, great bathroom scene and anything from fresh gyros to barbecued meats to tacos to popcorn and pretzels.  I ate a raw vegan bar I brought with me and my better half bought and finished off a warm cinnamon bun for dinner.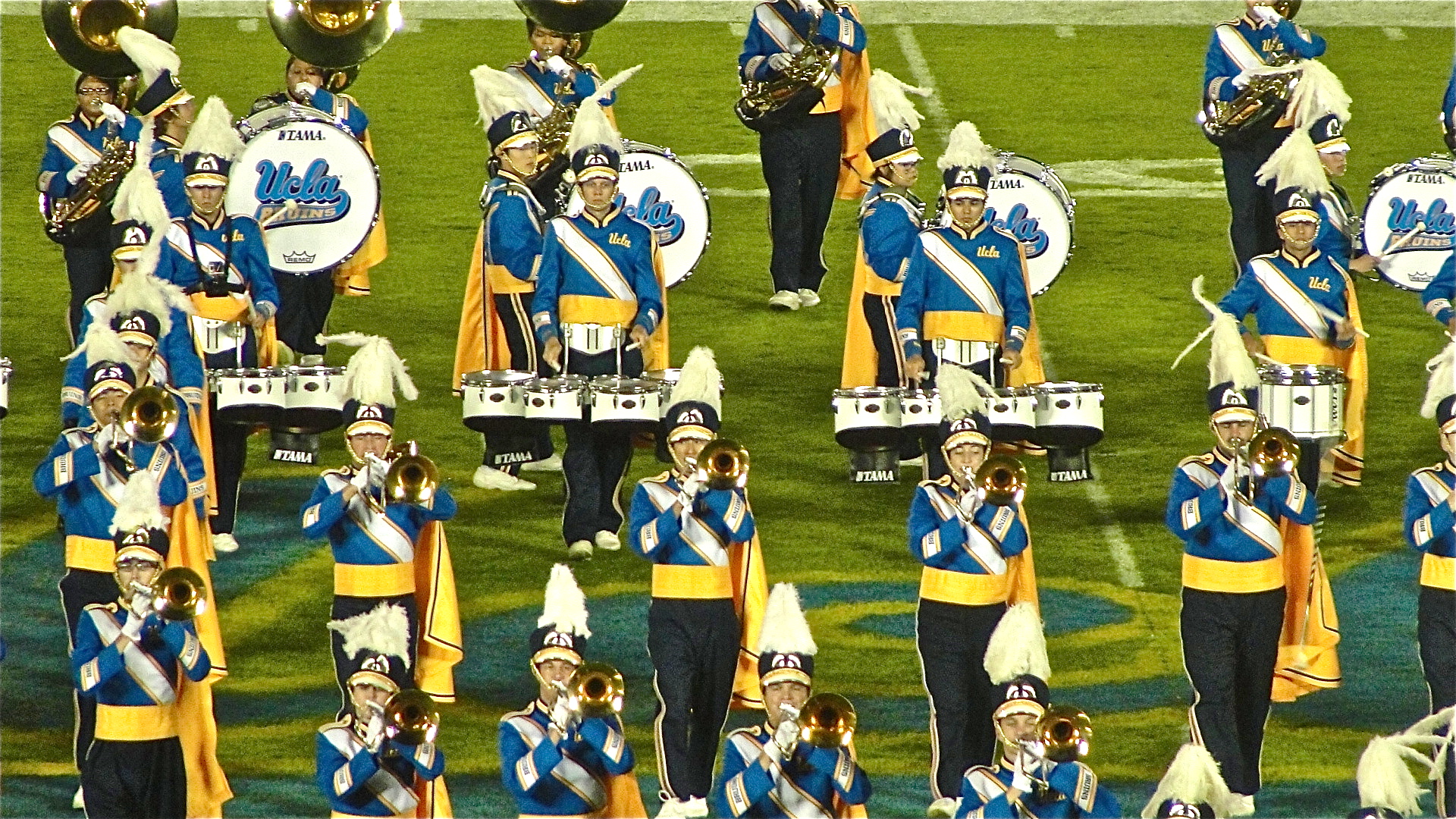 4. Entertainment is great!  Two bands perform! Twice!  Before the game and at half time. I was in my marching band in High School and can attest to the amount of practice needed for even an amateurish performance.  Last night, both bands blew me away!  You are constantly counting as you are playing your instrument and moving your body and creating an overall group look. Both bands spelled out their college letters in script form!!! The mom next to me had her son in the Cal band.  He is a tuba player and a physics major in his Junior year at UC Berkeley.  She said "they practice everyday and make up the dance steps and design the moves and pick the music."  The Golden Bears played a Britney Spears medley which we thought was odd but when a few of the musicians (the lady's son next to me was one of them) dropped their instruments and shed their uniforms and proceeded to dance up a cute little spoofy number, I was delighted!  The Bruins had a better choice of music – bits and pieces of reliable Stones tunes we could sing along with.  UCLA also had a full band and was louder.  Next week, my informant who sat next to me assured me, the Cal band will have a whole new performance at Berkeley when they play against Oregon.  Maybe I will see her there!
UC Berkeley marching band doing a little dance while UCLA band waits behind them at half time show.
So, to recap.  Parking is difficult, expect to walk.  Wear your Ucla button or something, don't bother to root for your team, we are expertly dispersed so we cannot hang together.  The atmosphere is pleasant without beer spilling and it's comfortable because there's always a restroom at hand.   Be prepared to be amused, even if not absorbed in the game, by hardworking, brilliant execution of footwork and lively marching bands.