I remember seeing Journey for the first time way back in the early 1980's at Nassau Coliseum on Long Island, NY.  I had the opportunity again to see them twenty years later with a new frontman (Steve Augeri – 1998-2006).  It wasn't Steve Perry, close, but no cigar.  Last week in Vegas we got the chance to see them again, first row with a different lead vocalist trying to sing like Perry named Arnel Pineda from the Phillipines.  A documentary is set to debut on PBS on Sept. 30th relating Pineda's first year with the band called Don't Stop Believin': Everyman's Journey.  
Although many tribute bands play their idols' music well – it is rare to have an original band try to replace it's singer that placed them on the charts in the first place.  It is hard for the traditional, unforgiving and die-hard fan.  The only other band I can recall doing that besides Journey is INXS.  I saw them at The Grove in Anaheim with some substitute and then again in Las Vegas with their fourth replacement for Michael Hutchence (who died by hanging himself over a woman).  Remember, suicide is a permanent solution for a temporary problem and no one should have that much power over you.  Talk about love addiction.  Is it too soon?  It's been over fifteen years, hasn't it?
Sadly, you cannot bring back the magic of synergistic energy between people – you have to live in the moment.  There is no reunion in sight since Perry left Journey back in 1998.  But… Don't Stop Believin' because Anyway you want it when you look at the Lights, you Faithfully and with Open Arms  embrace Journey tunes.   Anytime you Ask the Lonely you will be coming from a HIgher Place so Be good to Yourself and find the Wheel in the Sky asking yourself Who's crying Now? (steve perry?). I guess we are all on a journey of sorts.
Don't get me wrong, with or without the original band member,  I had an uber fabulous time re-living and re-singing and re-dancing (more than thirty years later) as I was Lovin' Touchn' Sqeezin with the love of my life on his birthday in Vegas!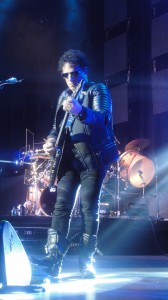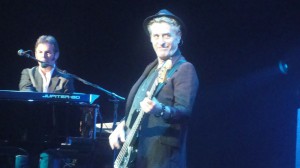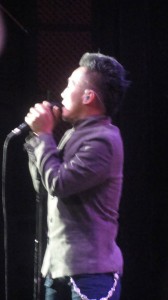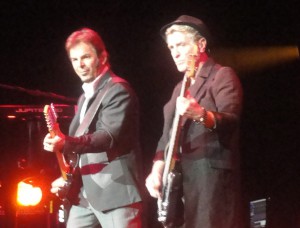 Original songwriters Neal Schon, bassist Ross Valory, Jonathon Cain and seven year vet Arnel Pineda perform minus Steve Perry.