My friend K handed down a coffee table to me many years ago. She had sewed up a cushion to place on top so it can be a bench too. I have been using it at our entryway, covered by cloth that goes with our decor more. Here you see our shaven Cappuccina atop the fabric and photo bombing. The table has good, heavy bones, completely made of hardwood with curvy legs and carved detail all around four sides.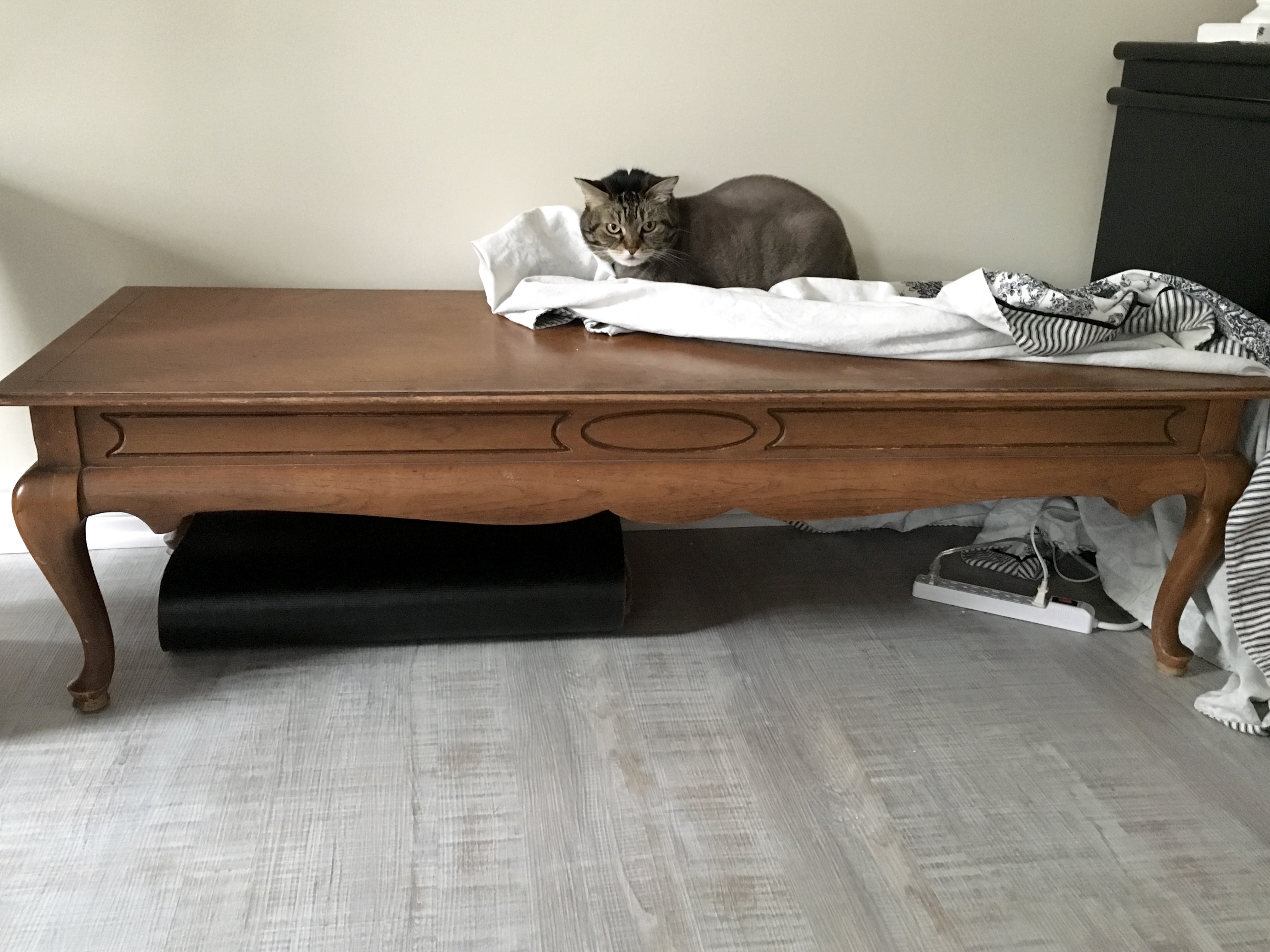 After going up to the mountains, I realized we could use a bench in our bedroom. The platform bed is so high, I need to sit on the floor to tie my shoes. The cushion is sage green which will go excellently with our bedroom setting; walls of a sort of olive color, bedspread in gold, cream, sage and burgundy.
The table is naturally weathered and distressed from all the wear and tear over the years. I believe it originally belonged to her parents and they are in their 80's and she inherited it when she moved out in her twenties and she is now in her late 40's.
Needless to say, when a piece comes into your possession, it must tell a story in order for you to want to up cycle it because it is a lot of work and you sort of obsess over it. For me, I need to take my time to figure out where it will be most happy, what colors it wants to wear and what finish it is dying to try out and change into – sort of like a human makeover. The piece must speak to me and sometimes it is not that communicative or speaks a different language or I am just not listening well enough… so, I give it some time, I marinate, I focus and eventually, we are able to confabulate.
The coffee table/bench very much wanted to live up in the mountains and after taking measurements, it looks like it will fit in nicely right under a set of windows. Color-wise, I took my cue from the cushion and I knew it wanted to look worn and loved. You just know. Here it is in my TV/den/Workroom sans the cushion which is headed up next time I visit the mountains (this piece is so solid it is too difficult for me to take up by myself).
I antiqued, distressed and crackled the top, gave it a dark wax finish and buffed. Voila! I hope it will be happy in its new role and second act.