In my family, spicy, tangy ChimiChuri and sweet, sticky Dulce de Leche, have been standard accompaniments to savory and dessert dishes, respectively. In the last several years, exciting chefs have learned how to concoct this Argentine salsa type item, chimi churi and even Breyer's brand has Dulce de Leche flavored ice cream these days.
Lots of experimenters have different takes on what ingredients to add or delete to a chimi churi which resembles an Italian green sauce or salsa verde . Most variations include Italian parsley, an acid and plenty of garlic. The recipe calls for mixing finely chopped greens in a bowl with garlic cloves mashed up in a mortar and pestle and allowing the flavors to meld at room temperature with vinegar, oil and spices. I decided to substitute water for the oil to save some calories and it didn't take away from the flavors. You can keep Chimi Churi for quite a while in the fridge.
My husband brought home dandelion greens, I had some leftover spinach leaves and I cut some Italian parsley from my front yard stash. After washing the greens, I toasted coarsely cut up garlic in a very hot cast iron pan, added a few other ingredients to my food processor and then pulsed and blended it all together. Easy peasy as Jamie Oliver would say.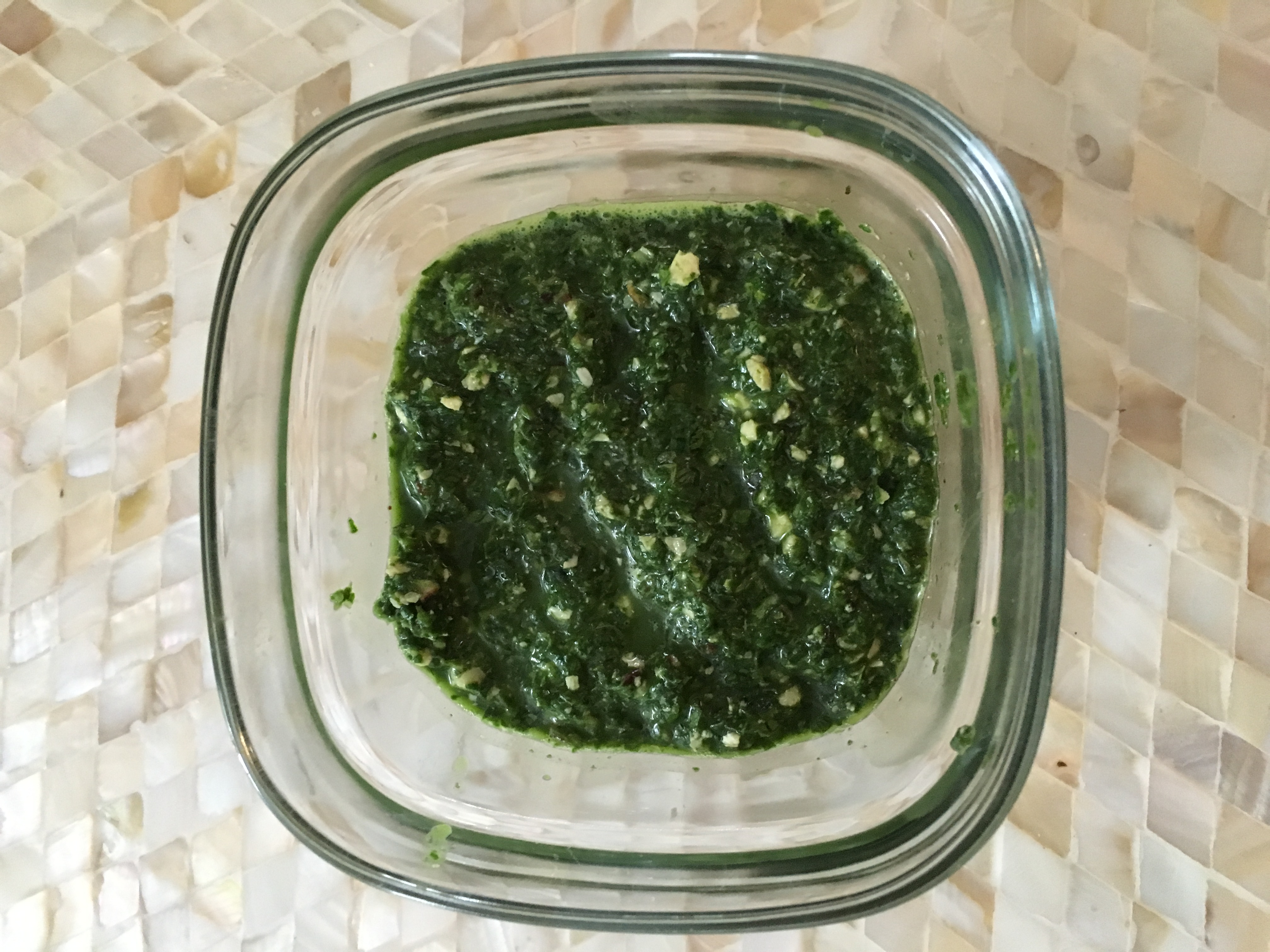 Here is my adaption from a recipe for dandelion greens pesto I found on line at boardsandknives.com.
Dandelion Chimi Churi.
Use atop salads, vegetables, soups or alone with baguettes.
INGREDIENTS – Use all organic
2 cups       dandelion greens
1 cup        spinach
½ cup        parsley
¾ cup        water
4 large      garlic cloves
1 Tbsp.      raw cashews
1 Tbsp.      fresh lemon juice
1 Tbsp.      red wine vinegar
1 tsp.        salt
DIRECTIONS
Heat up a small cast iron skillet on high.
Chop garlic coarsely and large. Toast garlic in pan and toss till lightly browned.
Add all the ingredients into a food processor and pulse till smooth.
Transfer to a sterile glass jar and set it on the counter for one hour to marry the flavors.
Refrigerate up to one or two weeks but I doubt it will last that long.