Recently, we headed over to Green Tomato Grill and had an outdoor dinner with our little Cindi in tow.  We are trying to take our dog with us as much as possible to dinner as well as scope out dining options where vegans are welcomed.  The investigation is ongoing and rather fun.
They have a cute little patio on busy Tustin St. with picnic tables, umbrellas, astro turf and a warbling fountain.  What we liked about the menu was it had something for omnivores, vegetarians, gluten intolerants and vegans with the added benefit of having everything labeled.  Plus, some items even had the calorie count.  Everything is made fresh to order and the ingredients are clean, distinctive and well seasoned.
We ordered two sides, both vegan.  Chili Lime Popcorn which was seasoned with Adobo Seasoning and Lime Juice served in a bountiful brown bag for only $1. And, Crispy Chick Peas for $2, that were out of this world crispy and addictive.  We finished off the garbanzos that night.
I had a Mediterranean Black Bean Soup for just $2.95 and it was genuinely homemade and I saved some for the next day's lunch.  Then, I ordered a Crispy Tofu Salad that turned out to be huge for just $7.65 and I also saved some of that for the next day.  We ordered two sauces on the side, Habanero Fire and Thai Peanut.  I had my Balsamic Vinaigrette for the salad on the side and never tried the Fire but adored the strong ginger and mint in the Thai.  They have six vegan sauces and the friendly gal who helped us also let me know they could exchange any protein with crispy tofu so the menu is wide open.  They have breakfast too and use soyrizo for us vegans.  We tried all five of the vegan dessert options and would only recommend the cookie dough ganache.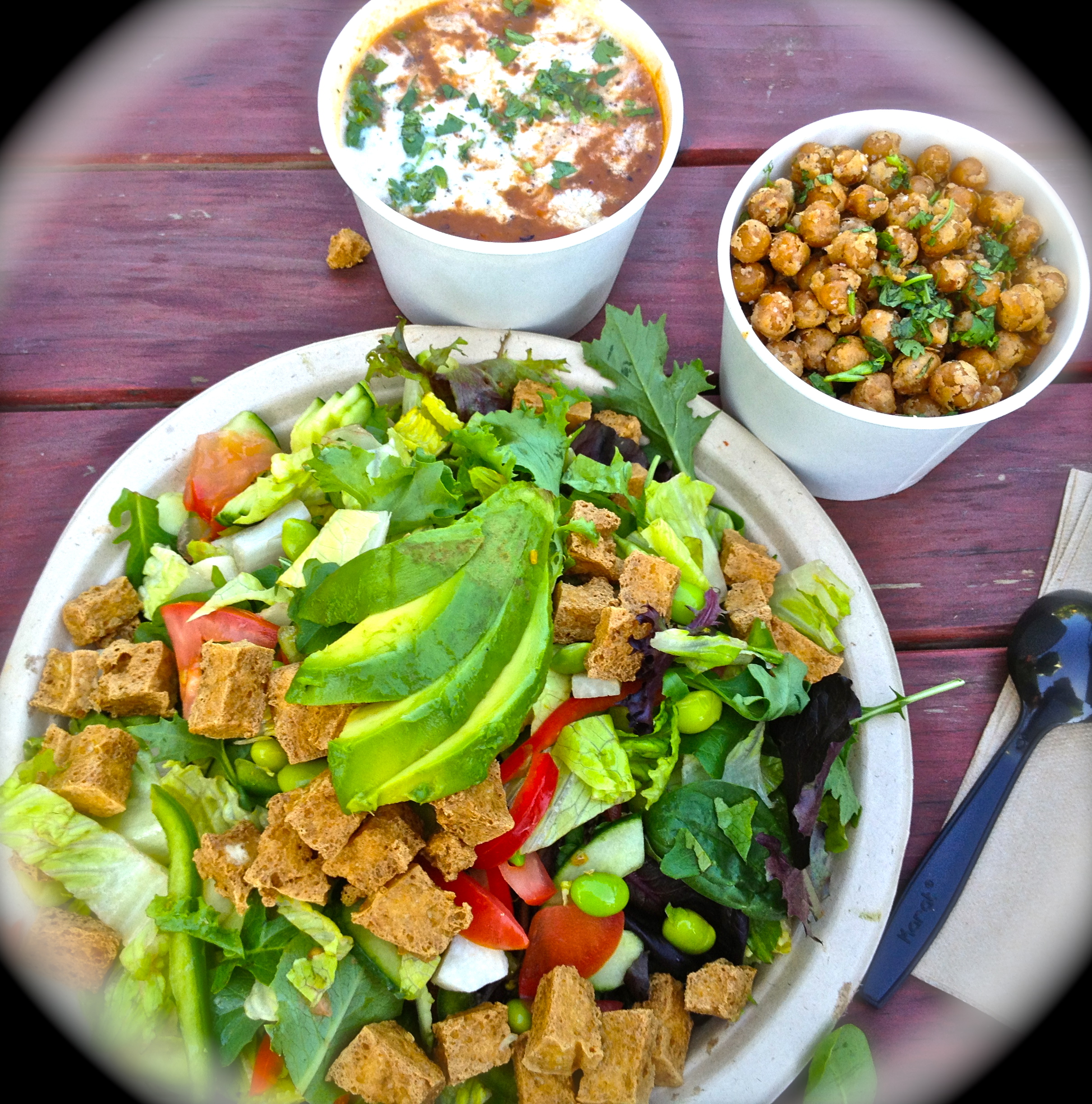 Crispy Lemongrass Tofu, Avocado, Cucumber, Edamame, Jicama, Bell Peppers and  Tomatoes on a bed of Mixed Greens.
Soup at twelve o'clock  and crispy chickpeas on the top right!