Here are the implements I often use for prepping: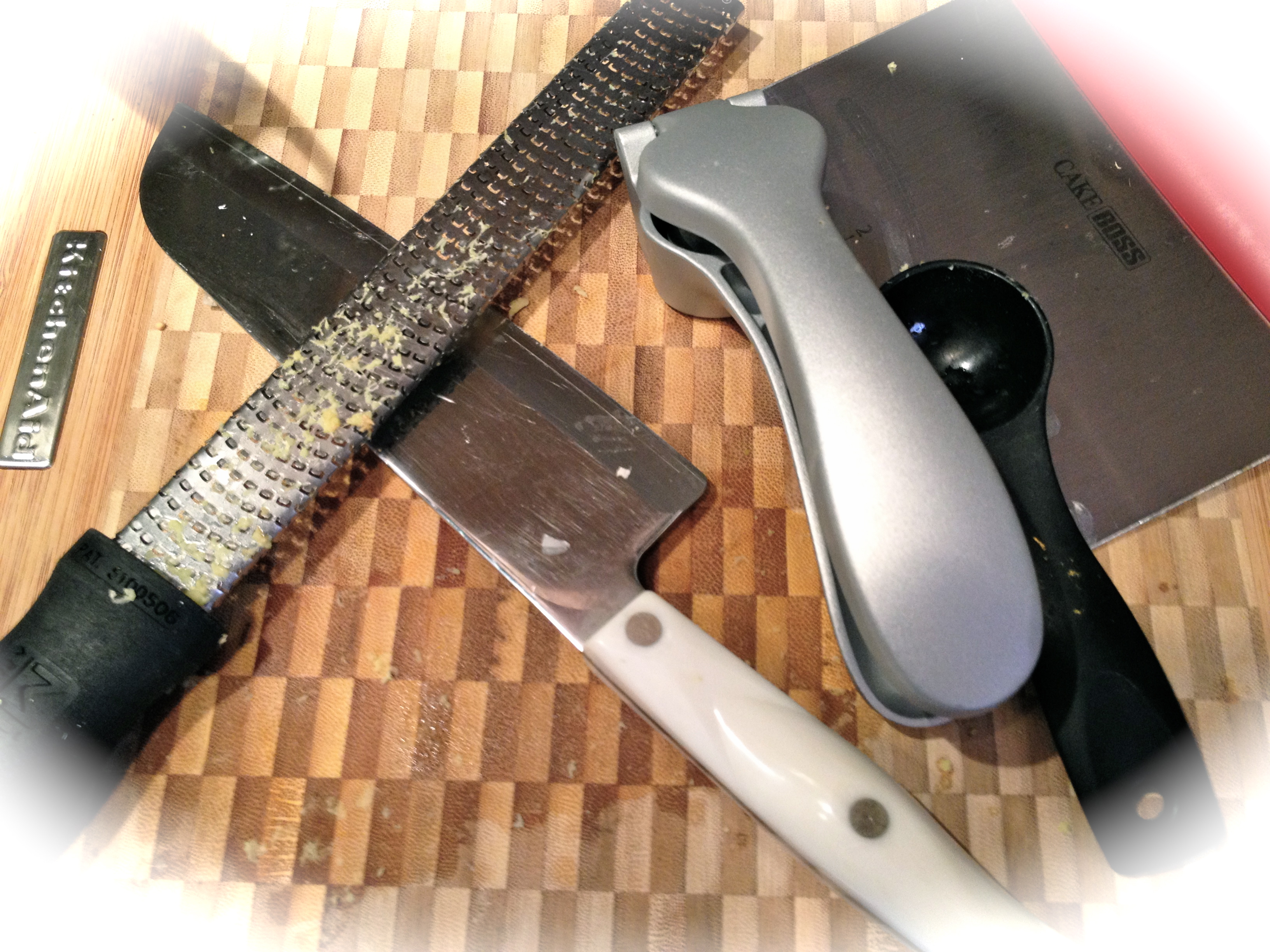 A butcher block or bamboo cutting board.  Essential to keep my counters safe and clean and knives sharp.  I place a small terry towel under the board for stability.  I clean them with good ole soap and water.  Sometimes I use half a lemon to expunge odors (because you don't want garlic on your mango slice) after heavy use.  Every now and again, I wipe them down with mineral oil to keep them hydrated.
A sharp knife.  I have many knives and they all serve a purpose but really only one good large, one small knife and one serrated one is all you need, initially.  I am addicted to the facility of cutting with a fine blade.
A rasp grater.  Urban legend says a wood worker who also liked to cook brought this tool out of his workshop and into his kitchen and the rest is history.  It is ideal for grating cheese, nutmeg, ginger, garlic and quickly obtaining the zest of citrus.  Once you hold it and use it, you never let go and guard it protectively.
A garlic press.  Just stick a clove in and press.  Minced garlic squeezes out the teeny holes side and the inedible skin is glued to the inside.
A baking scraper.  Initially this was used only in bakeries to scoop up flour and dry goods but I use it to gather, separate and sweep up everything on my cutting board.  It is handy for chopping and slicing soft fruits and vegetables too, like bananas, steamed carrots or avocados.  It is perfect for chopped or minced small items like fresh herbs.
Measuring instruments:  Probably the most accurate way to share or scribe your own recipes so others can duplicate it as close as possible.  I am not always a stickler but it is also useful when counting calories.
Nothing can surpass the love, attention and care you put into cooking so these tools are just clever and basic. The time and energy you put into discerning the best produce, scouring out pans and experimenting like a chemist is well rewarded on the plate after much practice, whatever method or instruments you use as long as you do it with passion!