Lots of little storefronts beckon the foodie at Jack London Square.  New entrepeneurs are flocking to share their wares and succeeding by the look of things.  On our way towards the square we stopped into a garage door opening where another bright young start up was serving free (on Fridays) drip organic coffee.  Just outside, young people on bikes, skateboards and sneakers were gathering, chatting and soaking up the sun.  Music from a i-phone boom box was playing jazzy, nouveau sounds.  Inside, a little stand held stirrers, sugar and milk and a tip jar.
"Can you make me an organic decaf?" I queried after everyone else had partaken in a free cafe.
"Absolutely, it will be 4 minutes" Stephen, the barista  answered.  I overheard the other presumed co-owner tell regular clients they were looking into spreading into Santa Monica and opening places south.  Business must be good.  Everything they use, including the  cones used to percolate and drip the coffee, is biodegradable.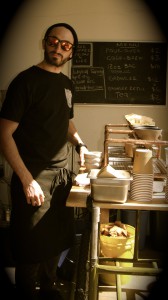 Refreshed, we continued on our way to the Pier and I stepped into an Artisan Pasta Shop called Baia Pasta.  A young, Asian woman with a sleeping three year old harnessed in front, by her bosom, welcomed and helped us.  She is vegan and is starting the first ever Jack London Square Vegan Festival come May.  There was a sign up sheet and a list of participating merchants.  The Pasta warehouse is attached to the storefront.  I purchased the Hot Box which included Chipotle, Jalapeño, and Red Pepper and Garlic pastas.  They use only organic flours, extrude the noodles through brass dies in small batches and dry the different shaped noodles at low temperatures to seal in freshness, flavor and keep the texture intact.  We purchased organic seasoned salt mixes.   A plethora of interesting and locally sourced jarred items like pimentos and olives are starting to also be displayed.
This is a fairly new venture and I am digging all the organic, social consciousness and ethical commitment I see as an example here in the Bay Area.