What to do when you have nine items in your impromptu repertoire for dinner at the tree house in the mountains?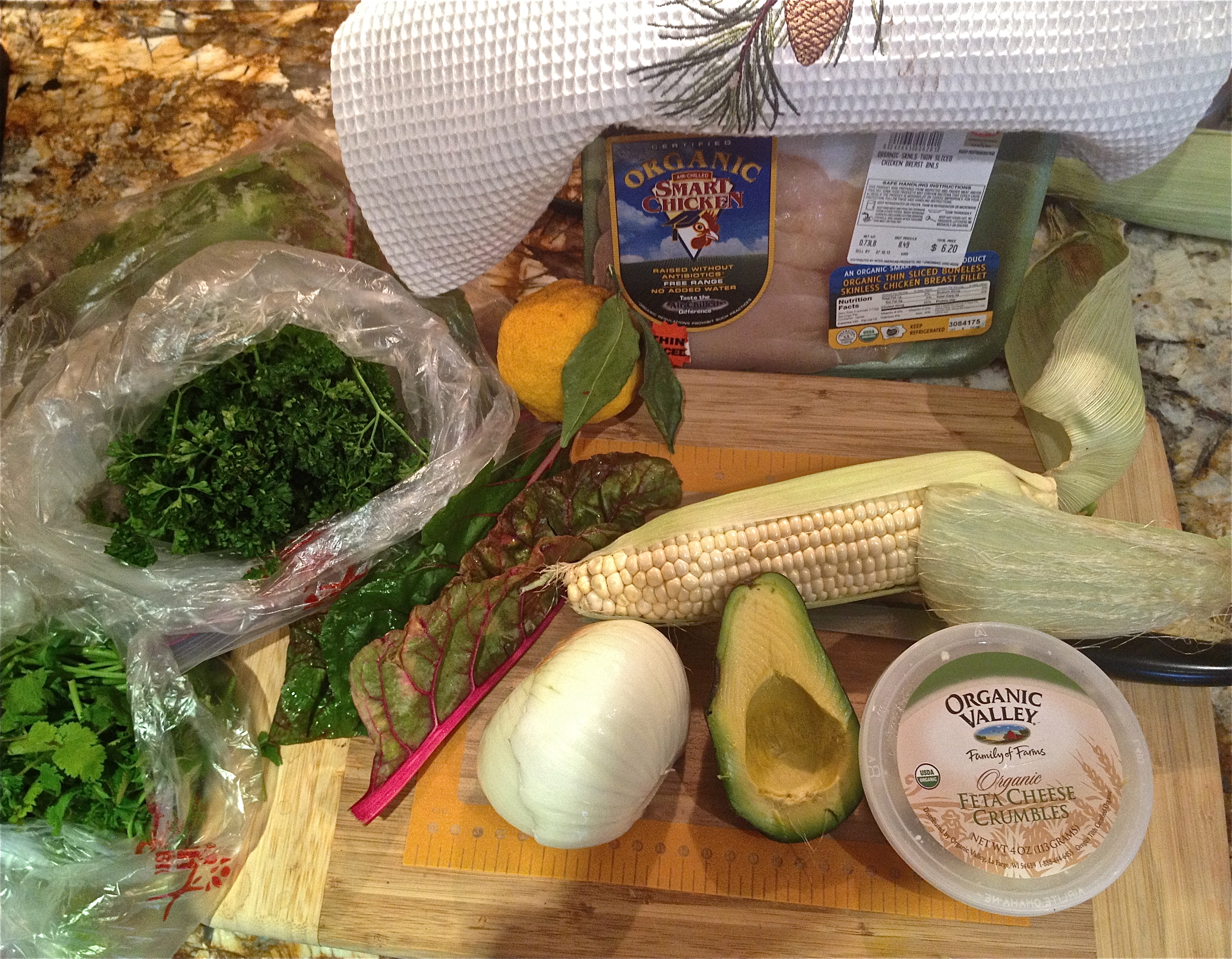 The following Organic Everything meal was prepared on the fly with items I had and ingredients I brought up to Lake Arrowhead Woods in my handy dandy Trader Jo's insulated bag.
What? You don't have one of these?  Run…
Mountain Summer (One Pan and In No Time) Chicken Dish
¾ pound chicken breasts, thinly sliced
2 ears of ORGANIC corn (everything else is GMO'd), kernels freshly removed from cob
A bunch or a bag of Swiss Chard (can you believe my garden is still producing this crop?) or Spinach, ripped or sliced
1 large onion, sliced or chopped or both (I like the counter play of both, it layers the textures – some bits get caramelized more)
¼ cup parsley, chopped
2 tablespoons cilantro, chopped
¼ cup crumbled feta cheese
½ avocado, bite sized
¼ cup fresh lemon juice
And of course salt to taste and spray oil for your pan or @ 2 teaspoons of any oil (I used a good 3 second shot of coconut oil sprayed enough to cover the bottom of the pan)
Optional:  ¼ cup of jam to accompany dish.  I used my coconut peach jam from my neighbor's peaches (check out earlier post-just type in peaches in the Search space).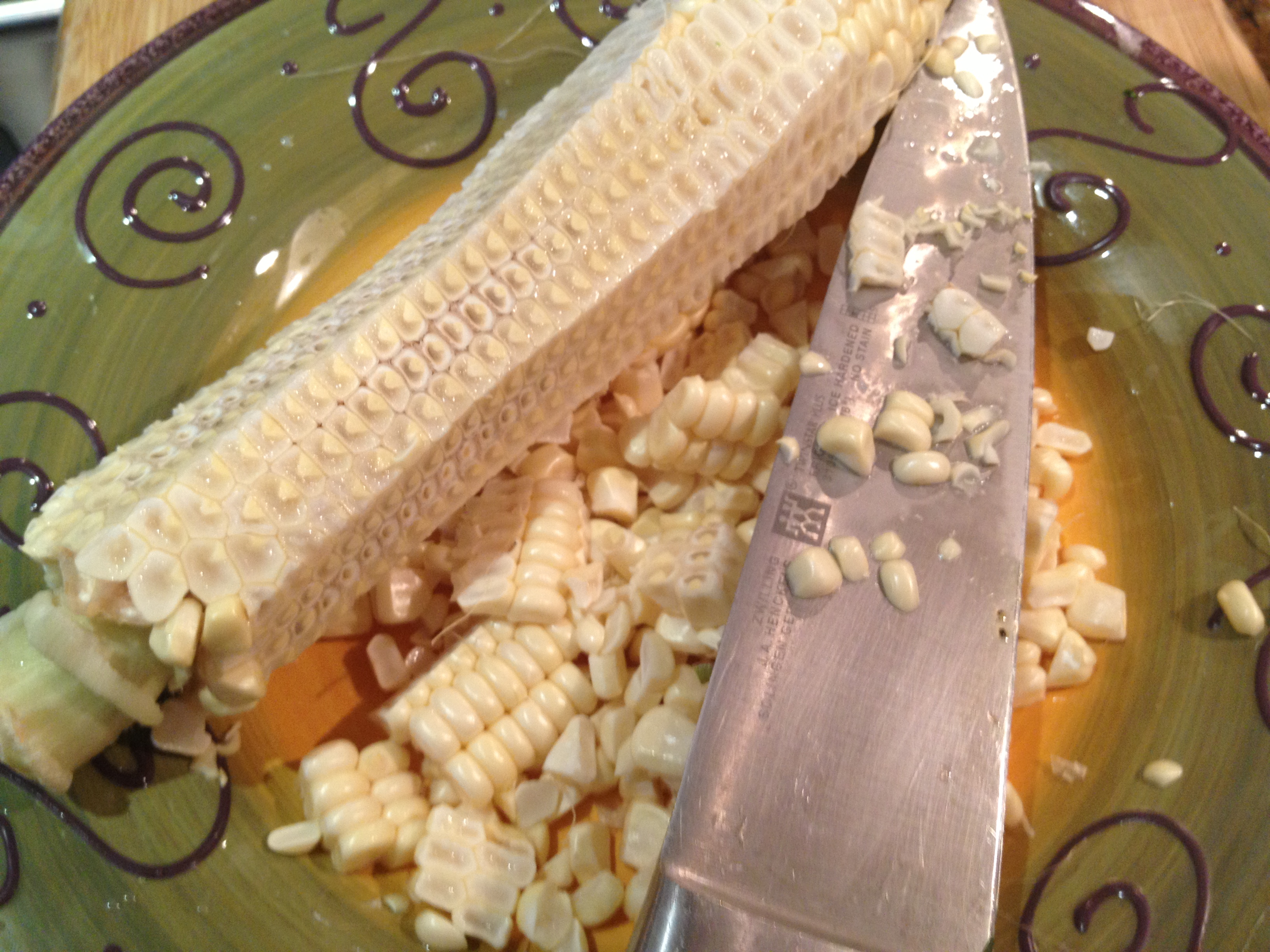 The corn likes to leap so I use a dish or bowl and slice on the diagonal, bottom half first and then I turn it upside down and continue from center of cob down slanting my knife all the time rotating the cob all away around.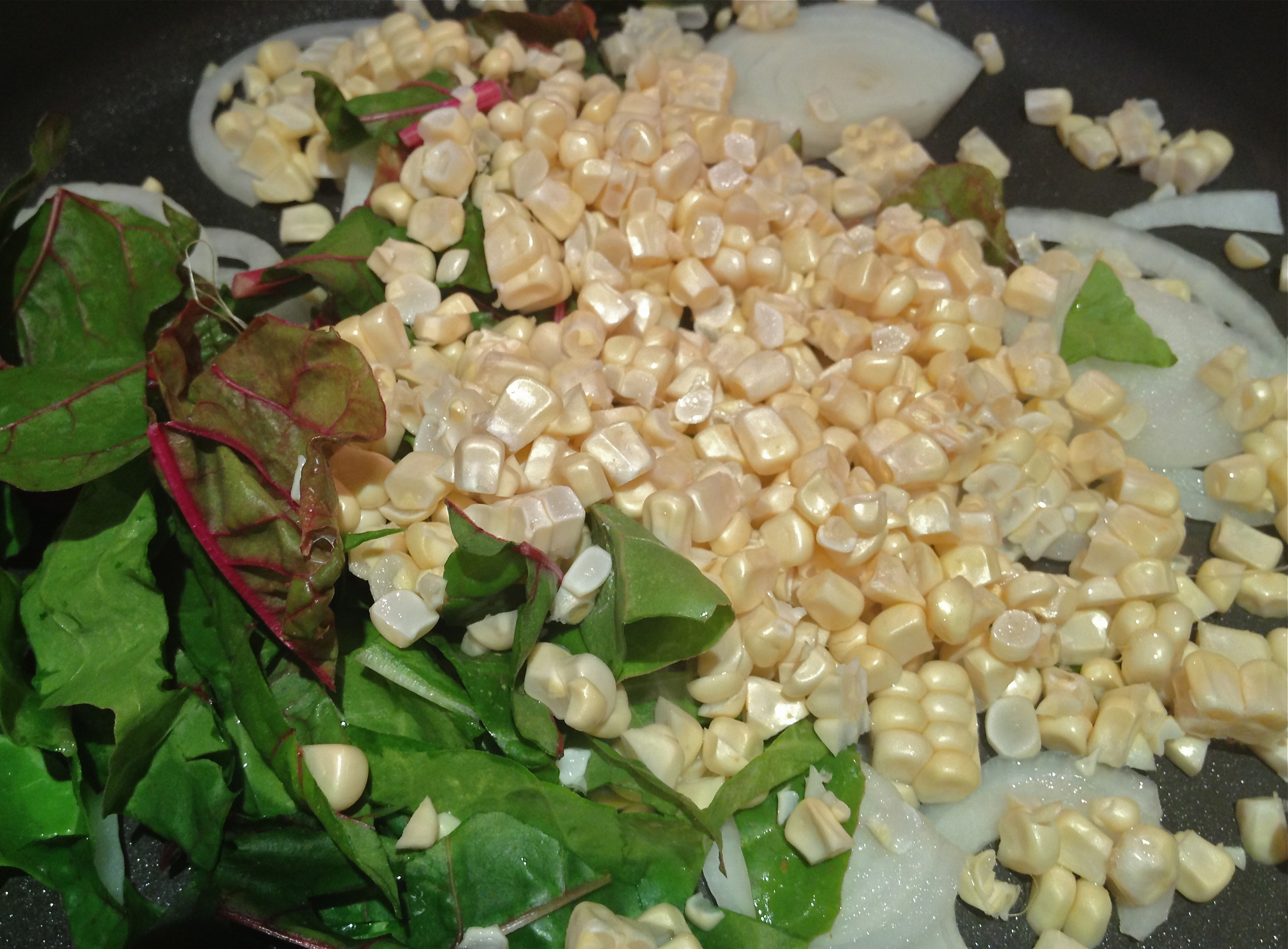 Fresh raw corn kernels and freshly chopped onions and chard.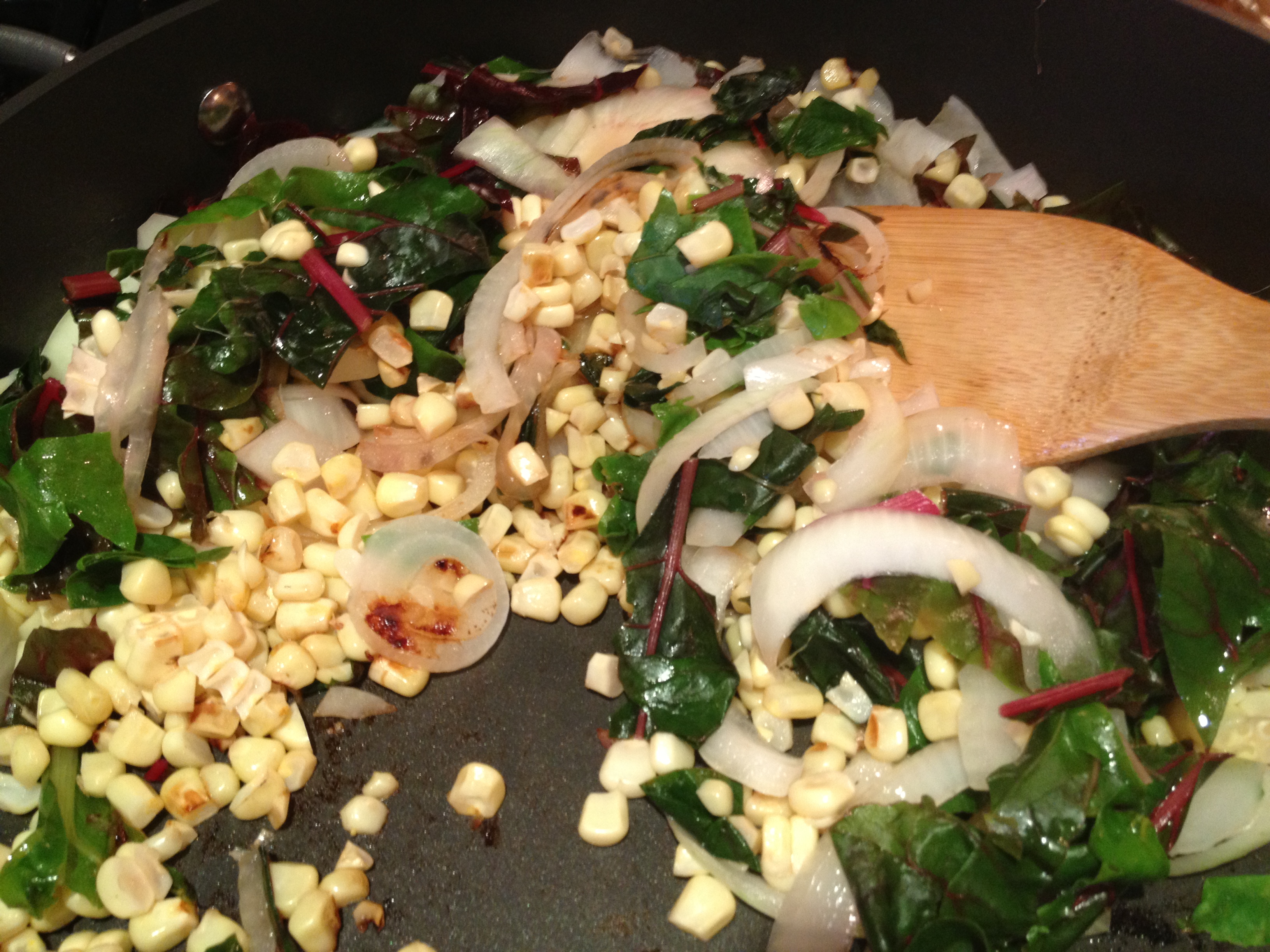 After stirring around for around five minutes or so.
Oil a large wide bottomed pan and heat over medium high.  Add onions, chard and corn when an onion dropped in the pan sizzles.  Cover and cook down, stirring to brown the onions, wilt the chard and cook the raw corn.
 Move vegetables to side so half the pan is open for the chicken.  Add the chicken and season with salt.  Turn over and brown other side after @ 7- 10 minutes.  Season and stir veggies and chicken. Sprinkle herbs over chicken and feta over the entire pan.  Cover, lower heat and continue cooking for @ 7-10 more minutes.
Pour lemon juice (save some for avocados) over the entire pan and stir veggies.  Serve with lemon slice, avocado and optional jam.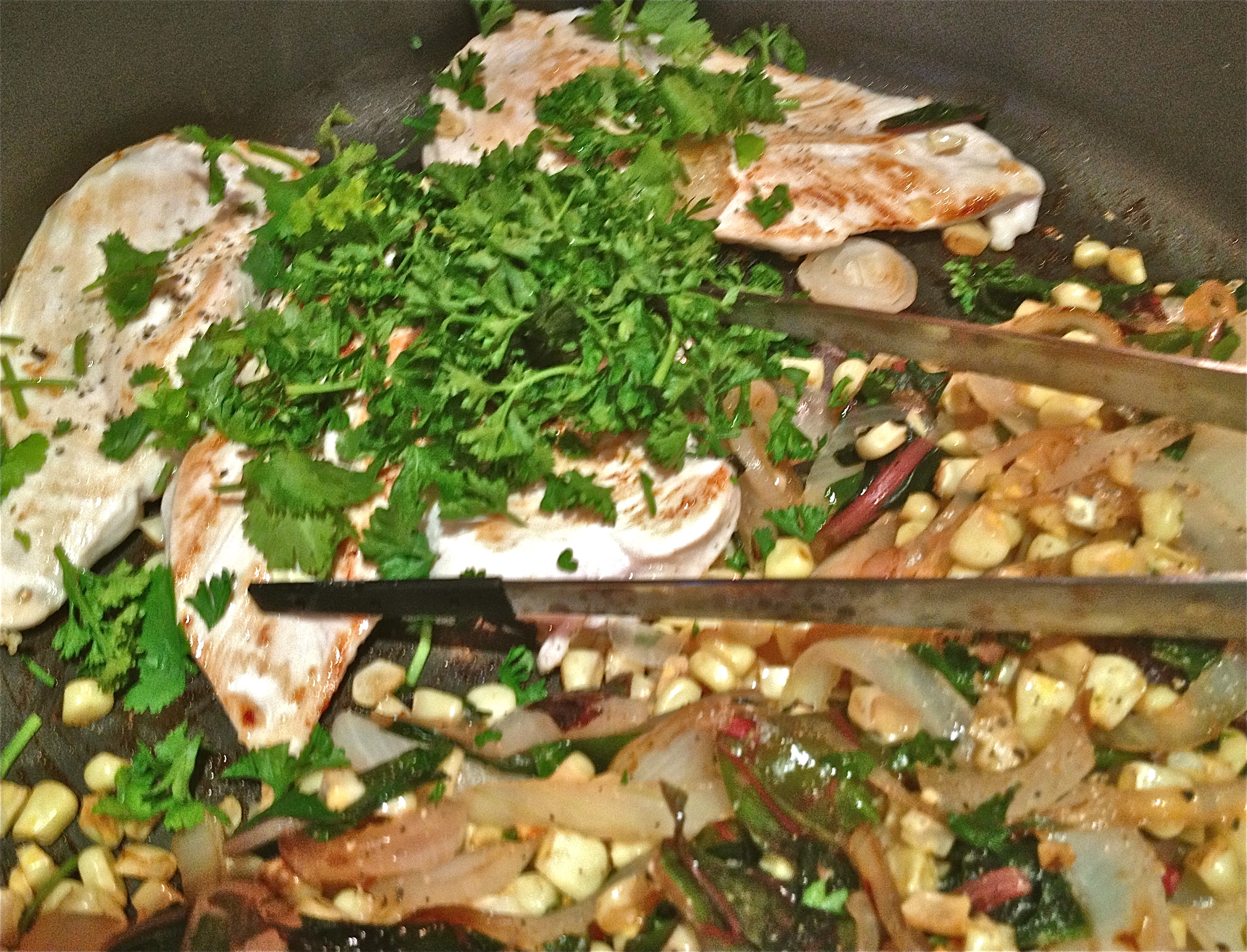 Chicken with herbs, turned over once.  Notice the sear and browning of the poultry.  It's key to have the chicken sliced thinly to make this in a flash.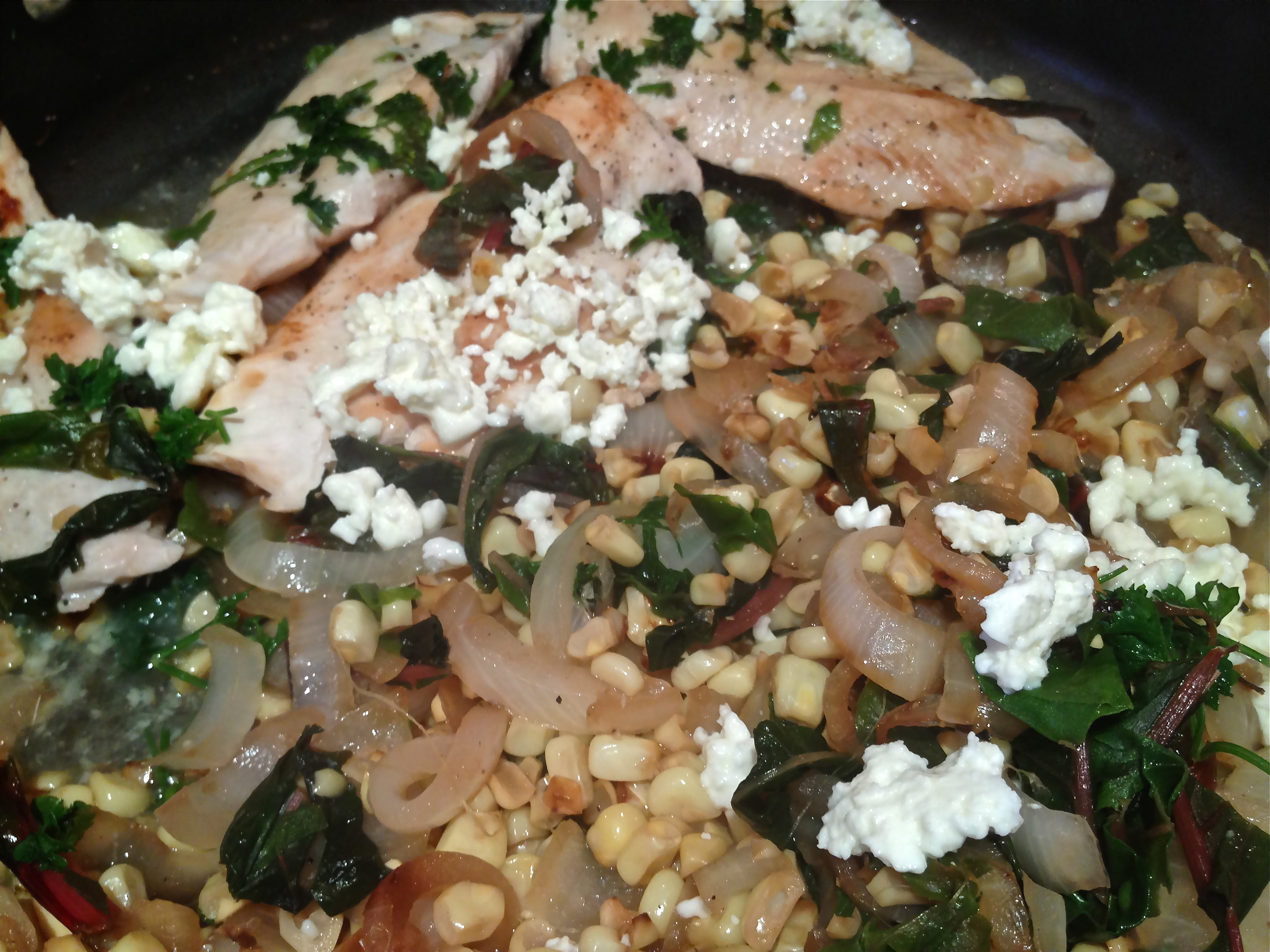 The addition of feta.  Covering the pan melts the cheese.  Almost any type of cheese would work.  Goat cheese would be incredible!  Or omit.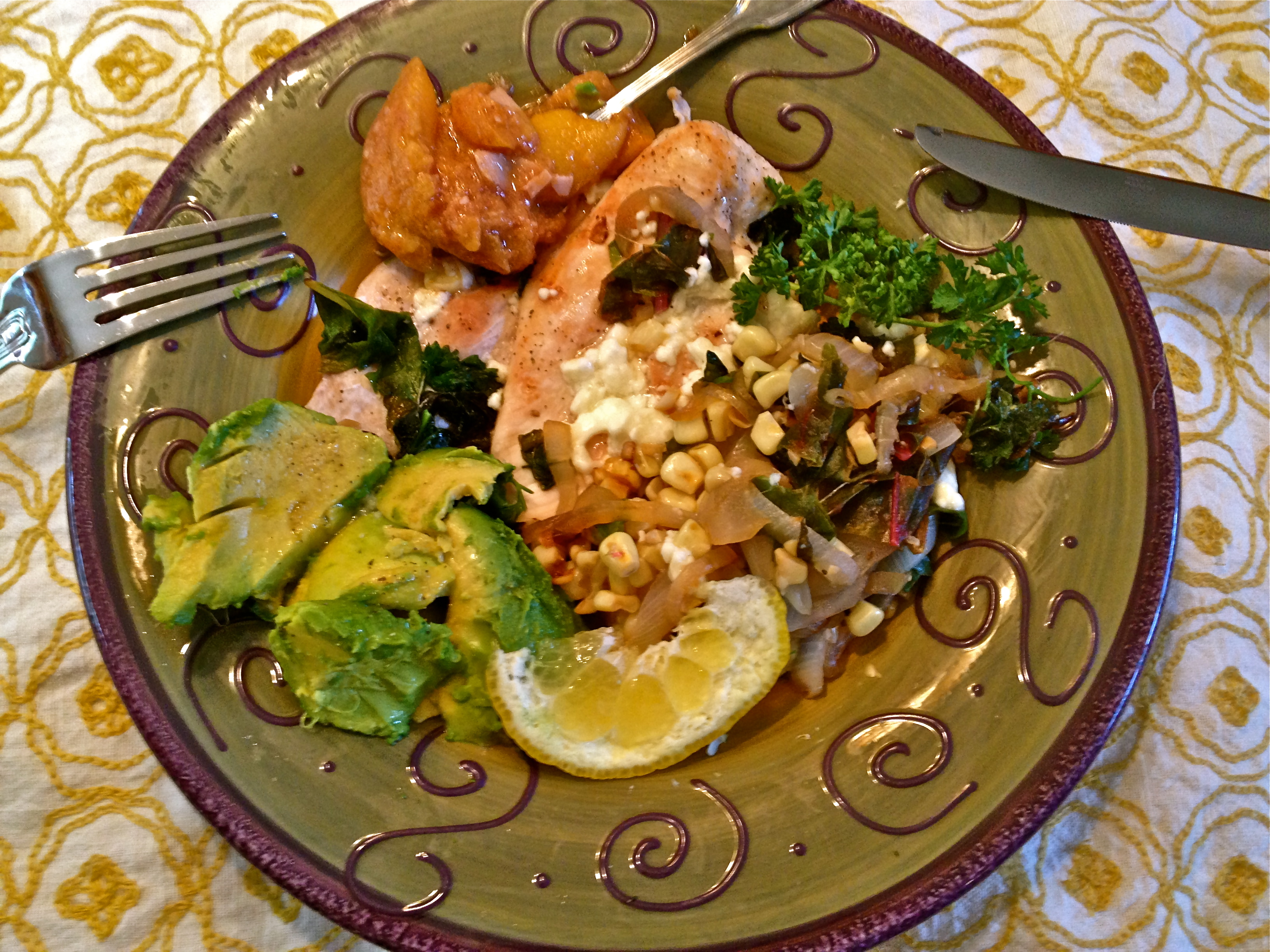 Voila!  Notice the chunky jam at the top under the spoon, a little extra parsley, and the lemon wedge by the creamy avocado.  The textures and mouth feel of this dish was multi-lingual!  The corn popped in my mouth, the sweetness of the onions and corn with the savory cheese and tart lemon harmonized and the jam and avocado juxtaposed the flavors and textures subtly yet brilliantly on the tastebuds.
Feel free (and I will) to add, substitute or delete any herb, spice, veggie or condiment.  For example, next time, I might add some coconut milk and curry or rosemary not cilantro with chopped potatoes not corn or substitute tomatoes, oregano and mozzarella and omit the lemon… you get the idea.  I had chicken but why not shrimp?
A mouth-watering diversity of flavor at any height!
Serves 2-3
Buen Provecho!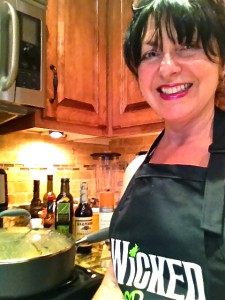 Mountain Momma Cooks with Altitude