Here's a list of things to do in July/August that I have enjoyed recently.
Restaurants:
Pizzeria Mozza in Newport Beach
Il Dolce in Costa Mesa
Café Lafayette in Seal Beach
Canyon in Anaheim Hills
Zena's in Orange
The Catch in Anaheim
Macaroni Grill  and BJ's in Hacienda Heights
PF Chang's in Chino Hills
The Pint House in Orange
Pictures and reviews to come….
I have also eaten lately at Pasta Connection in Orange, Tangata's in Santa Ana, and Rockwell's in Villa Park and but I wouldn't recommend them.
I used to love Pasta Connection but the owner's have changed and although there is live entertainment on Sunday's now, the pasta, the sauces and the pizza have detioriated.  There's another one in Costa Mesa, just down the road from Il Dolce, perhaps we will try it again at this original spot another time.  But the one in Orange is off our radar now after two disappointing visits.
Tangata's is located at the Bower's and is part of the Patina Group.  The plates look delicious but they were under seasoned. Period. I may give this one another try because the menu needed more exploring and the kitchen seemed slammed with the lunch crowd.
Rockwell's for dinner was a huge mistake.  Again, another restaurant under new ownership and the place got a facelift, a whole new space for a bar and an outdoor lounge area that replaced more meal seating so I am guessing the new owner is more interested in your liquor dollars and to me (although my kids liked it) – tater tots topped with nacho condiments are not an appetizer, albeit perfect for the young or inebriated.  The hummus was pedestrian, and for the prices of the entrees, it was a complete letdown.
Go See Movie:
Francis Ha – a small budget black and white sweet thing.
Go To Destinations:
Bower's Museum in Santa Ana –the engraved gems of the Medici family, decorative luxury from the Romanov reign in Russia, one of a kind scrimshaw masterpieces by pirates on whalebone and many other displays of culture and ethnic value in a renovated and expanded, well air-conditioned venue.
Seal Beach – an under the radar quaint beach town with plenty of dining and shopping experiences.  Keep it cool here.  The beach is anywhere from 10 – 30 degrees chillier and breezier than anywhere inland.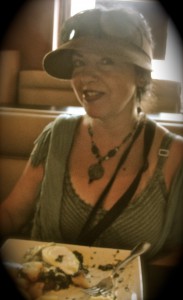 enjoying breakfast at Cafe Lafayette in Seal Beach today
Berkely – cooler, wetter and visibly closer to San Francisco.
Santa Monica – close to the water, Westwood and UCLA
 Watch the Tour de France!!