Tonight we dined at The Pint House over by Century 21 Stadium movie theatres on Katella, right off the 57 fwy.  Our choices were numerous as there are no fewer than eight dining options in one square block catering to the movie, Anaheim stadium and Honda Center ( I frequently misname it as the Honda Ponda – remnants of when it was home to the Mighty Ducks and owned by Arrowhead).
The Pint House is relatively new to the scene and considering it caters to (mostly men) beer drinkers who will pay an annual fee to have their own personalized glass (pint) on the wall, it has pretty decent food and prices.
We started with appetizers: Pretzels with a cheesy garlic sauce, freshly fried tortilla chips with a spicy adobo sauce and my personal favorite, brie warmed, seductively melted into a cast-iron pan with pesto, sun-dried tomatoes, toasted pine nuts, roasted garlic and crusty, buttery bread slices.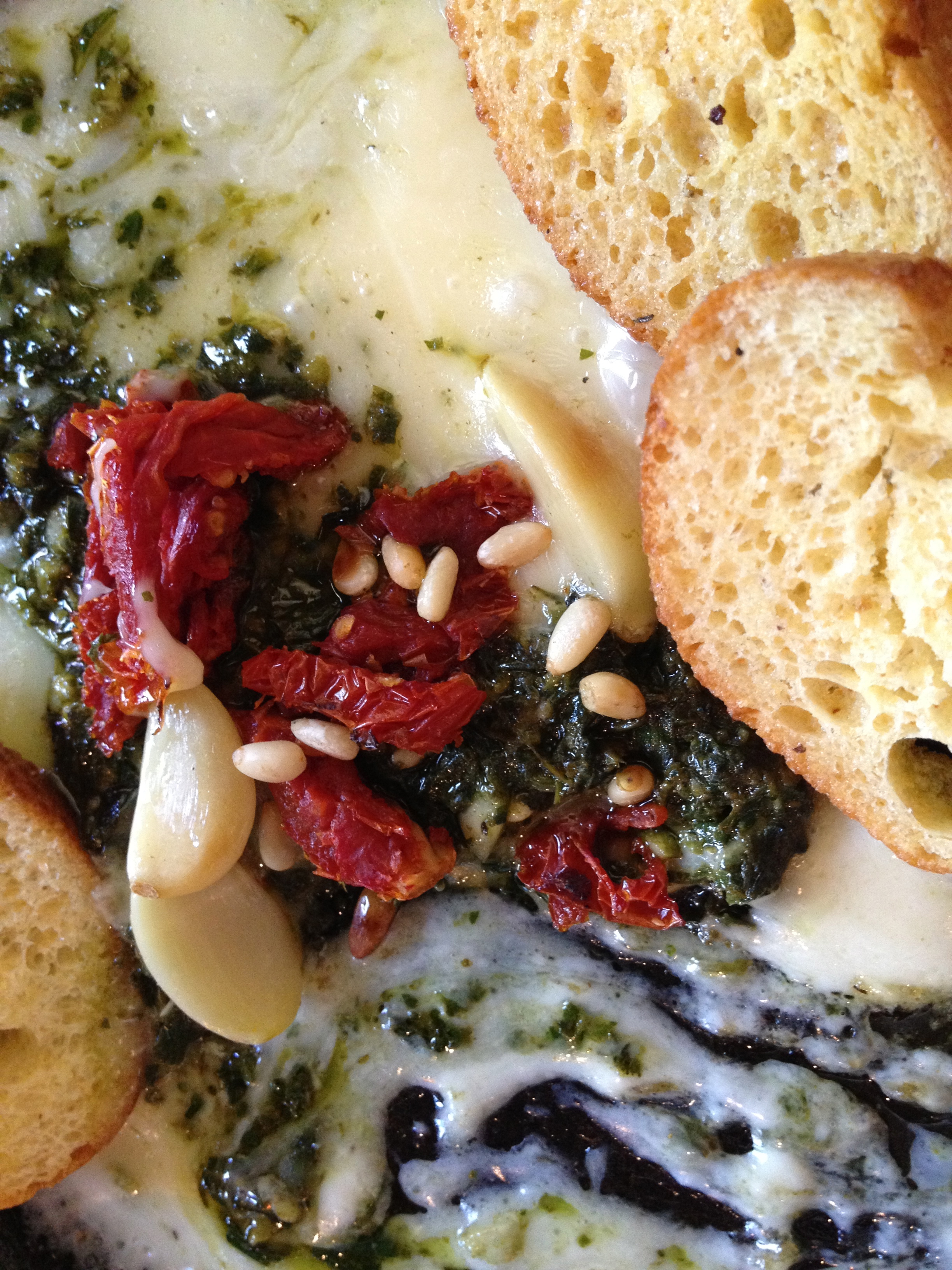 Brie with Pesto
From there my table of adventurers ventured into burgers, fries, onion rings, salmon Provencal (with spinach) over rice pilaf with roasted veggies (which I almost ordered but with their special of the night – Mahi ) and I ended up entertaining a Mediterranean salad with artichoke hearts, roasted peppers, garbanzos, red onion slices, feta and olives atop baby mixed greens with a balsamic dressing I did not care for and was wise enough to order on the side.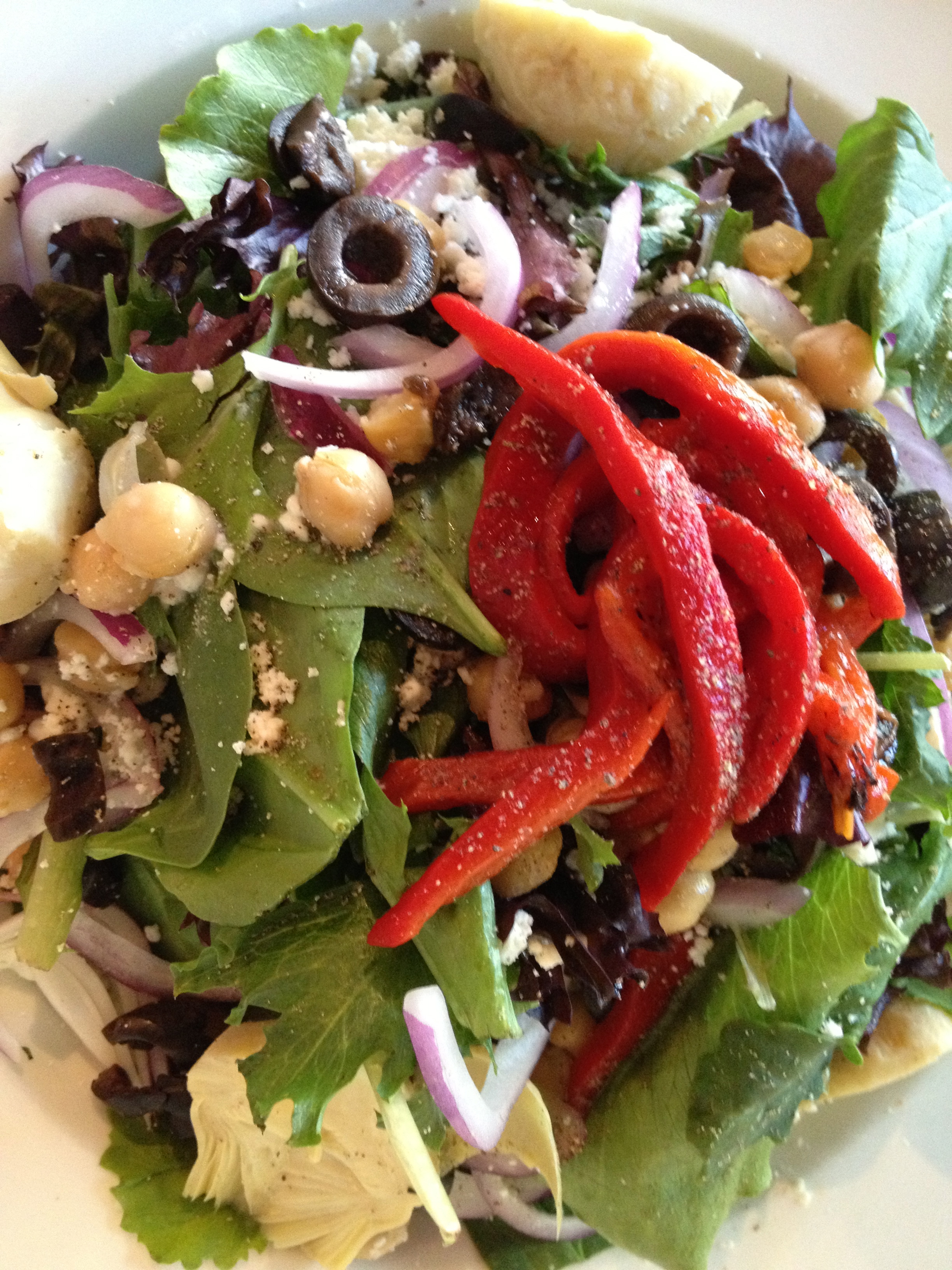 Mediterranean Salad
Always order your dressing on the side.  This way, if you don't like it, it won't ruin your salad. Plus, it keeps your greens crisp since it's not slathered with dressing till you say so.  Rarely has my salad been enhanced by a restaurant's dressing and I would rather eat my salad dry and taste the ingredients or make my own simple olive oil, lemon, salt concoction I prefer at home.  And most restaurants, especially chains, don't have quality condiments, but that's just me driveling because it's one of my many food pet peeves.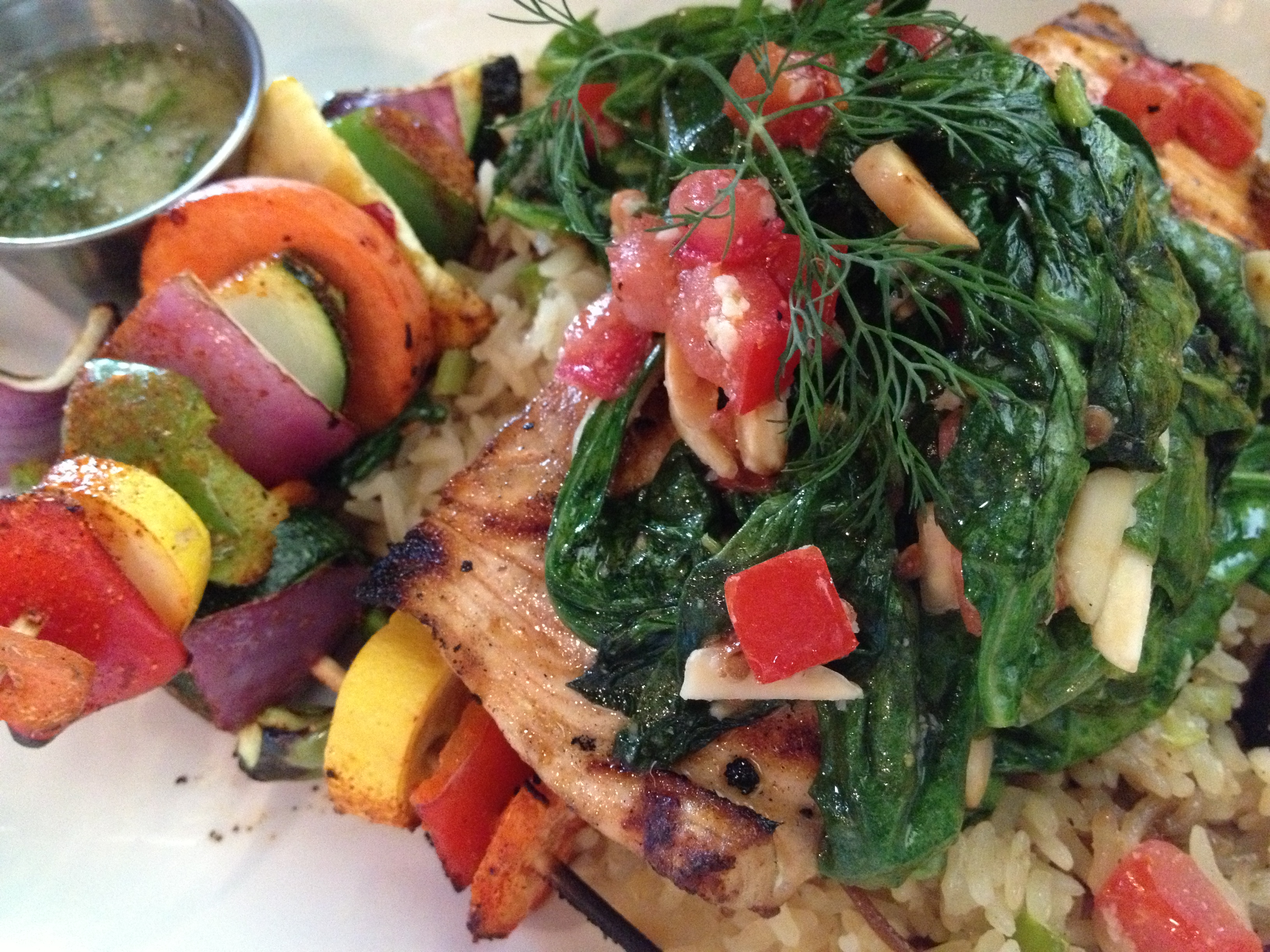 Salmon Provencal
Of course, I love dessert and my new motto is quality over quantity, so I eat whatever I want as long as it's not faux food, processed or chemicals disguised as nutrition.  So we ordered one dessert for the table (we had four spoons).  We consumed another skillet gourmand delicacy (like the Brie), old-fashioned apple pie a la mode. Sorry, no pictures.  We gobbled it up. The slightly salty crust, apples, sauce, ice cream  – hot/cold combo never fails and this version knocked me out with its cinnamon undertones.  Adding some chopped walnuts would be the only thing that could have enhanced the pie or subtracting the amount of spoons we had for sharing (just joshing).
I then left three people at the movies to see the zombie movie with Brad Pitt, World War Z I believe it's called, whom I have no desire to watch and proceeded to write this post.  Soon, I will pick them up at the appointed location (it's a mad house) and hear all about it.  I chose to write about food instead!  Go figure.