Have you ever found a new use for something old?
This morning on our walk, my friend (same gal pal who advised me to run now and get my Copper River salmon) and I saw a rusty table on the sidewalk obviously on trash/free/please take me away status.  We saw this same table two days ago and then I never remembered to pick it up with my car and bring it home.
Since it was still there and my friend thought it was darling and perfect for the yard and knowing that I'd probably forget to drive the car over and pick it up again, we walked it home.  She would have gladly taken it, since I hesitated, but she's selling her home.
This table is made of iron and has no soft spots to grab on to.  This table is rusted and rickety, only useful for décor.  This table weighs at least ten pounds.  We joked we were getting our walk plus resistance training workout in.
Two crazy garden lovers who saw potential, loveliness and charm in something abandoned carried this table home in spurts.  It was an act of love and hope.  We walked about three quarters of a mile with it together, switching hands, places and avoiding banging into fire hydrants, bushes and mailboxes. She graciously carried it alone with both arms in the home stretch at the top of our downhill climb to my house.
We re-arranged the aged relic in about a half dozen places till we found the exact spot we both felt was
1) Filling a purpose or space.
2) Pleasing to the eye within its dimensions and in relation to the immediate environment it was framed in.
We did this using a keen eye for proportion and using our aesthetic appreciation for pleasing landscapes on our walks. It took seconds to agree on the appropriate placement.
She wanted me to send her a picture when I was done filling it with what I perceived to imagine, ferns and shade loving plants.  But after she left and I hurried into my car to visit Home Depot once again this week (I am in total garden mode), I realized what it needed was for me to collect all my weathered finds I had scattered all over my property, and place them in unison around and on top of this table.
Voila!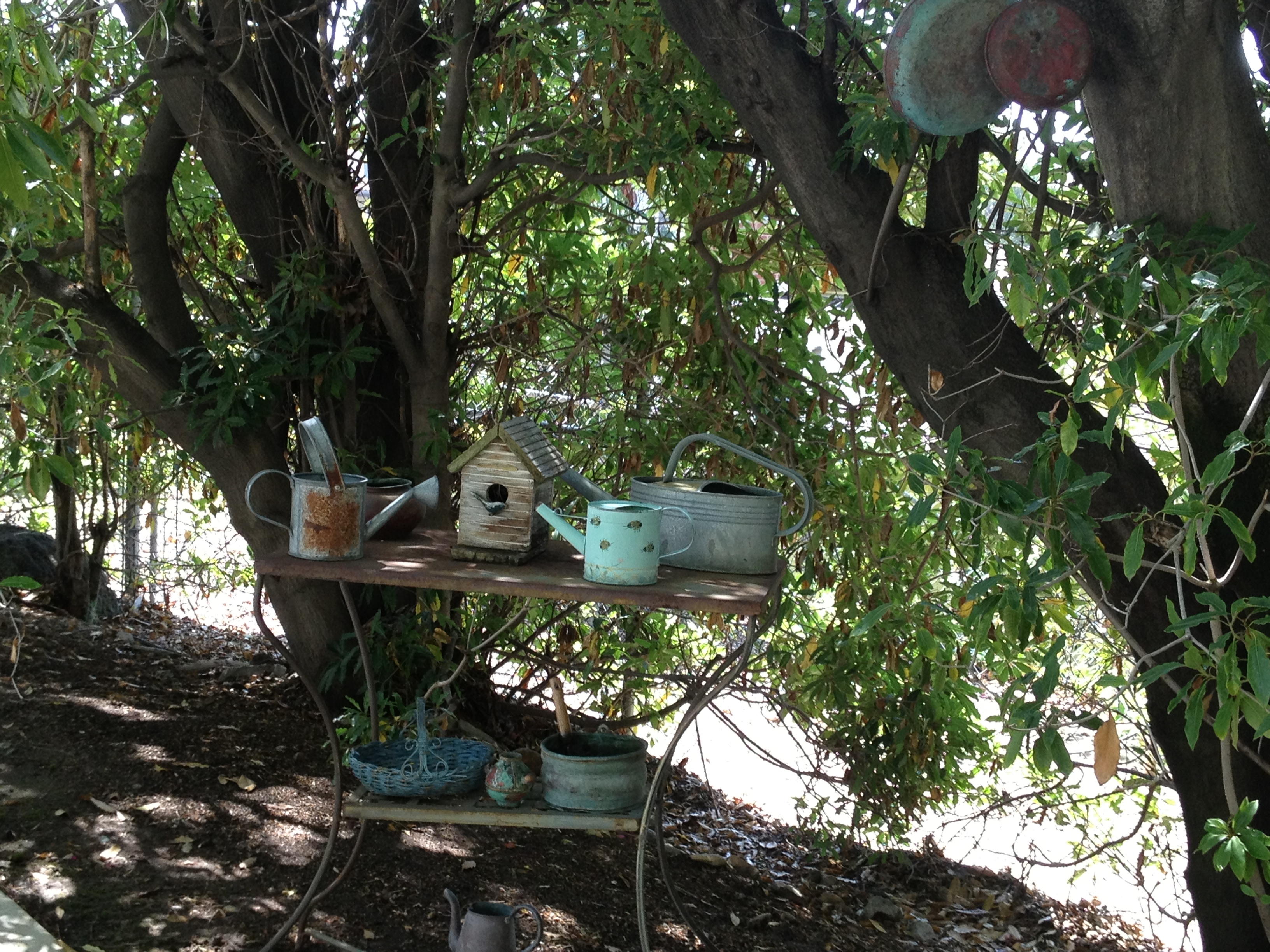 Reuse Recycle Restore
I am going to totally add some ratty, 'seen better days' wind chimes and hang them from the tree branches!