Cookie Monster Time
These cookies are dairy free, gluten free, less but not completely sugar free and delicious!!!! After eating a dozen yesterday instead of lunch or dinner, I decided I needed to detox today.  Detox spirulina shake recipe tomorrow.  Live today or copy and print this recipe for another time.  You will not regret it.  The procedure is simple and the acquiring of the ingredients is the only trouble you will go through.  I plan on sharing these on Thursday night after my last life coach class, so I froze them.  They are tender and fall apart easily while warm so make sure you cool them thoroughly before handling.  Their texture and taste is a bit reminiscent of Sandies.
The recipe was on the back of Bob's Red Mill GF flour and comes from Babycakes in NYC by Erin McKenna.  I added the nuts (go figure) and substituted the Stevia for Baking in lieu of the sugar, reducing the amount of sugar and calories by more than half.  I believe next time I will use 2 Tbs. less oil, as I found it unnecessary and maybe even sub in Earth Balance vegan butter.  I might try it also with no chips and bananas instead of applesauce.  The Flaxseed and fruit stands in for the eggs as a substitute.  The arrowroot makes the cookies less dense and lighter.  The xanthan gum is used to bind, thicken and emulsify GF baking.  The GF baking flour is a mixture of chickpea, tapioca, white sorghum and fava bean flours plus potato starch.
You will need: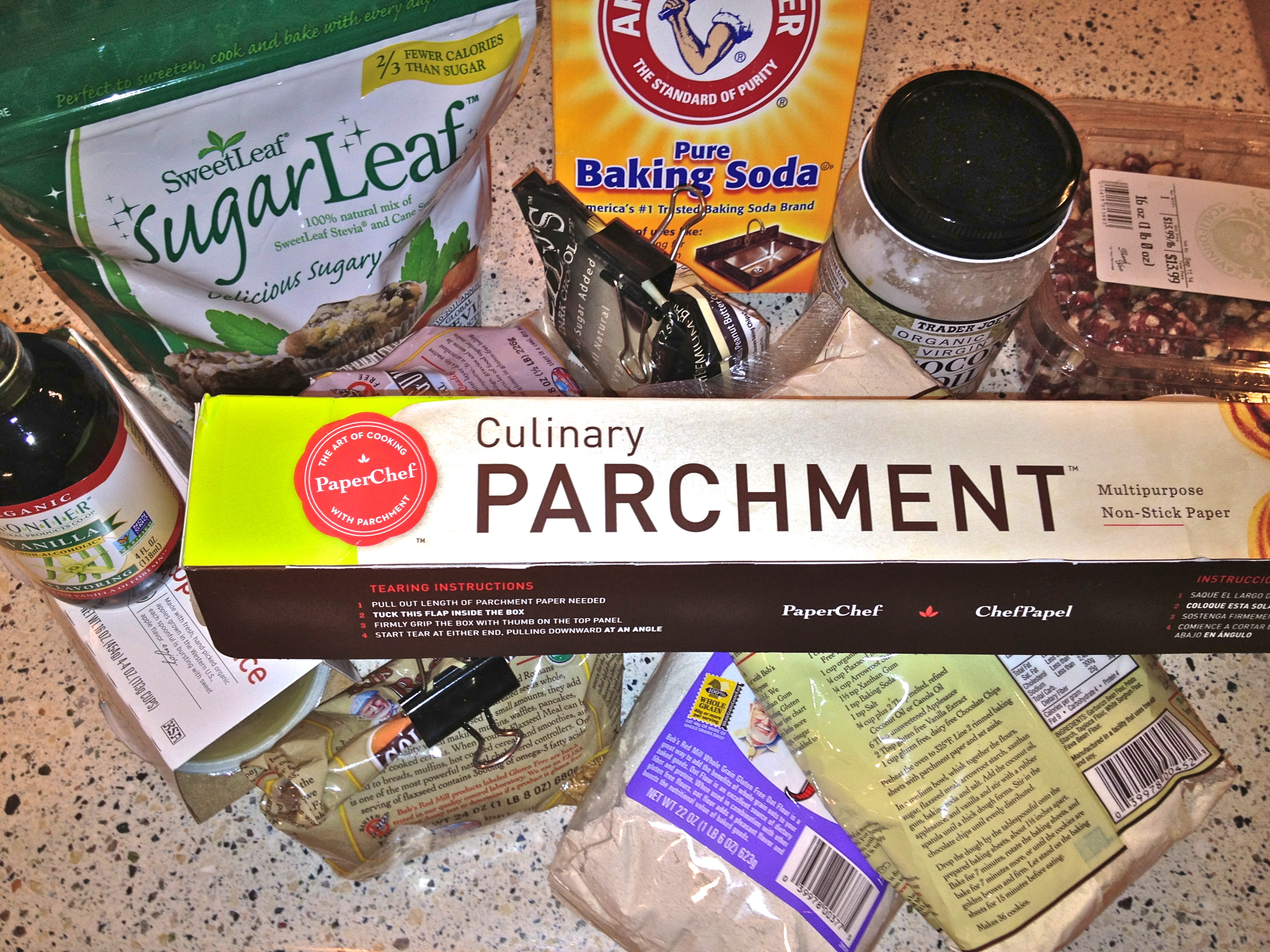 1 1/2 cups GF Oat flour
1 cup GF Baking flour
1/3 cup Stevia for Baking
1/4 cup flaxseed meal (just whir flaxseeds in a coffee bean grinder) or buy it already ground
1/4 Arrowroot Starch
1 1/2 tsp. Xanthan Gum
1 tsp. baking soda
1 tsp. salt
3/4 cup plus 2 Tbs. melted coconut oil or canola oil
6 Tbs. or 4 oz. plastic tin of unsweetened applesauce
2 Tbs. Vanilla extact, no alcohol
1 cup vegan, GF chocolate chips
3/4 cup chopped red organic raw walnuts or any other nut (optional)
1.  Preheat oven to 325 and line 2 rimmed baking sheets with parchment paper (or use Silpats).
2.  In a large bowl, whisk all the dry ingredients together and thoroughly.
3.  Using a rubber spatula or wooden spoon, add the liquids until a soft dough forms.
4.  Stir in the chips and nuts until distributed evenly.
5.  Drop the dough using a Tablespoon measuring spoon onto the baking sheets, about an inch apart.
6. Bake for 7-9 minutes , rotate the baking sheets and then bake for another 7-9 more minutes or until golden brown and firm.
7.  Let stand for at least 15 minutes before eating (or you will burn yourself – don't ask how I know).
Makes 36 cookies but with the addition of nuts I ended up with 42 cookies, even after eating some dough (no eggs – so go for it).