Some of us are still processing the Holiday they call Thanksgiving from last week.  For five (5) glorious days I had one or all three of my kiddies at home visiting.  Last time we were all together was during our youngest's high school graduation in June this year, so it was almost a half a year before mom and dad had all of their chickadees under one roof again.  I took an extended and guilt free vacation from posting and spent quality time with my family.  I hope you dropped everything and did the same.
Truly, I am grateful that they even want to visit and just as important,  they all arrived intact to the old homestead and then got back home to their new locations without incident, peril or any mishaps.
Between eating out with hidden or obvious sodium and fat, chomping on tons of vegan treats I don't usually consume in mass quantities and delicious sweet and savory baked fare my daughter V creates and insists I taste and I then proceed to devour…I gained a few pounds.  How about you?
My efficient daughter V had it all figured out.  She sent me an e-mail with an attachment including a proposed menu, recipes and a shopping list.  Even though we were going to grandma's house, we both wanted to make sure we had vegan fare to eat and she loves to share her love of baking, cooking and experimenting with everyone.
The absolute favorite recipe was the Chocolate Chip Pumpkin Bread.  My daughter E had specifically asked her sister for any special pumpkin treat that would pass the non-vegan palette as well. Not only did we succumb to its powers, but again and again, V was asked to produce more.  And she obliged, every time.  I believe she made three batches (making three small loaves each time) but who is counting.  All I know is, she was tired of the recipe but we were finding new devotees, with every bite we offered.  Friends, family and the tasting team (us) who had to make sure each batch was up to snuff, at home, delighted in the chewy, pumpkin chocolatey, lip smacking greatness that is this vegan recipe.  Beware.
CHOCOLATE CHIP PUMPKIN BREAD:
Ingredients
1 1/2 cups all-purpose flour
1 1/4 teaspoons non-aluminum baking powder
1/2 teaspoon baking soda
1/2 teaspoon salt
1 teaspoon cinnamon
1/2 teaspoon nutmeg
1/4 teaspoon ground ginger
1/4 teaspoon ground cloves
1 1/2 cups pumpkin puree
1/3 cup oil
1/3 cup non-dairy milk
1 tablespoon ground flax seed
1/2 cup granulated sugar
1/2 cup brown sugar
1 1/4 cups semi-sweet or dark chocolate chips or chunks
Instructions
Preheat oven to 350 degrees F.
Lightly oil a 8 ½ x 4 ½ inch pan and line with parchment paper.
In a small bowl, whisk together the flour, baking powder, baking soda, salt, cinnamon, nutmeg, ginger and cloves. In a large bowl, whisk together the pumpkin, oil, milk, flax and sugars until smooth. Pour the dry mixture into the wet and mix until just combined. Fold in the chocolate. Pour the batter into the prepared pan and smooth the top.
Bake for 65 to 75 minutes or until a toothpick inserted into the center comes out clean. Let cool in pan for 10 minutes then remove and place on cooling rack to cool completely.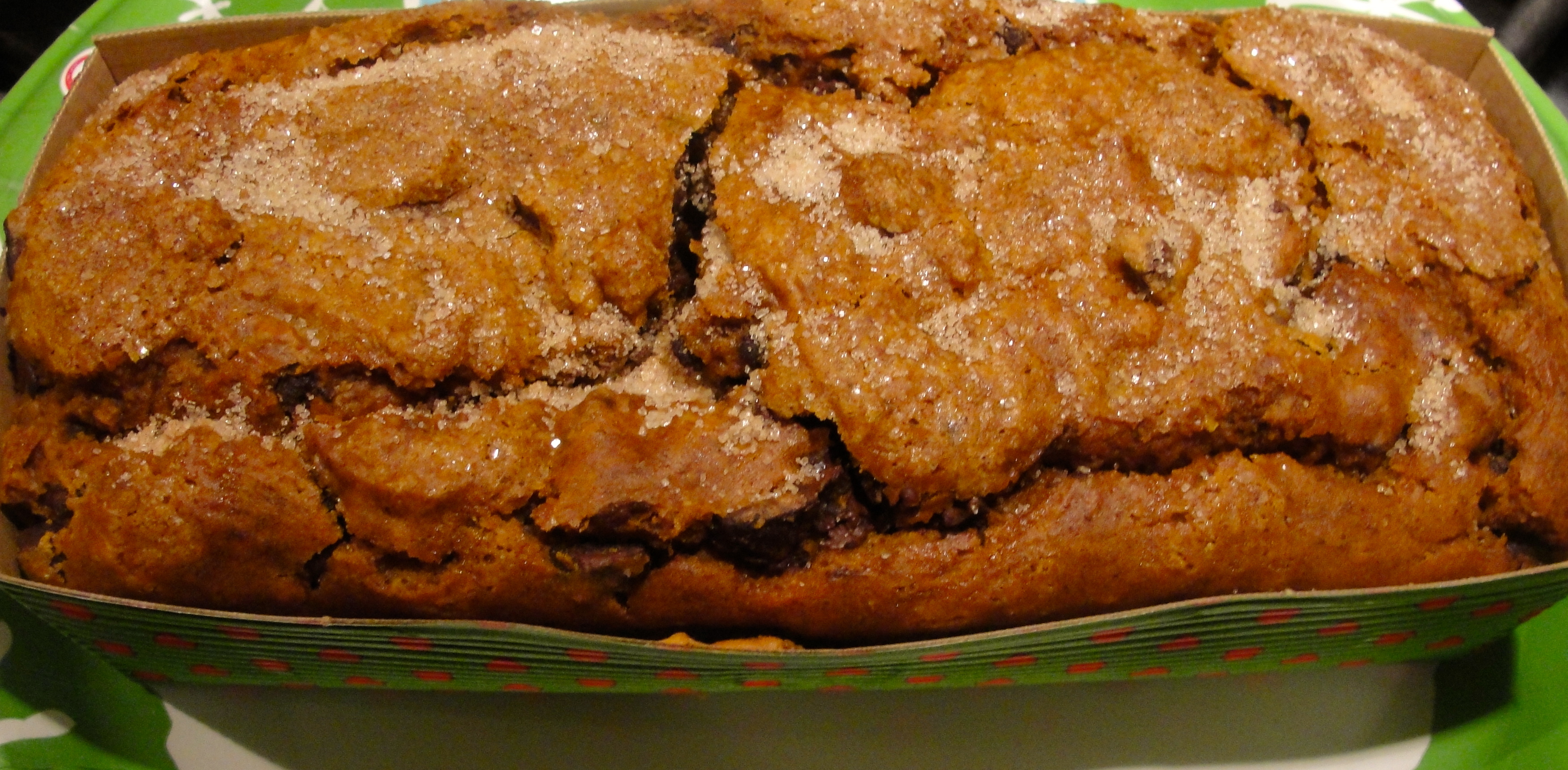 Disclaimer: I personally have no idea where this recipe came from.  But thank you for the extra two and one half pounds to whom it may concern.