It's a lazy A.M. on the balcony.  Reading the paper, sipping coffee and listening to the birds conversing while the sound of the fountain downstairs in the patio corner sounds like a distant trickle up here, Niagara Falls otherwise when you are in close proximity to it.
The covered awning encloses me and the outdoor space opens me.
The crystal and wrought iron chandeliers command equal attention. They differ in design ascetic yet they both belong here.
The curvy wrought iron chandelier hangs in wispy starkness against the treed background.  It brings a rustic charm with a feminine twist to the scene.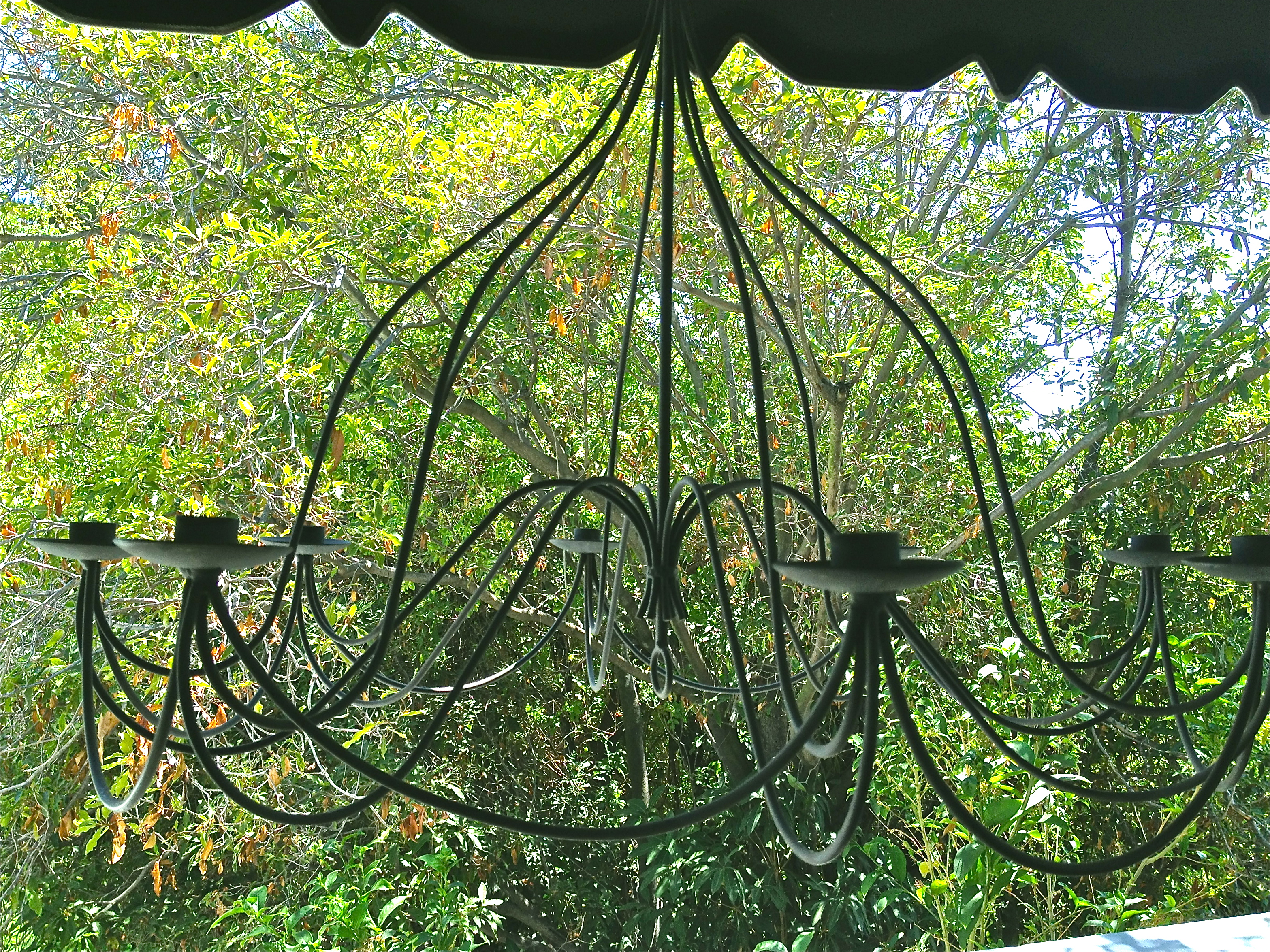 The crystal shabby chic chandelier looms precious.  Its finery a glittering contrast to the natural background of leaf, branch and sky.  It freshens the look with unexpected prisms of refracted light.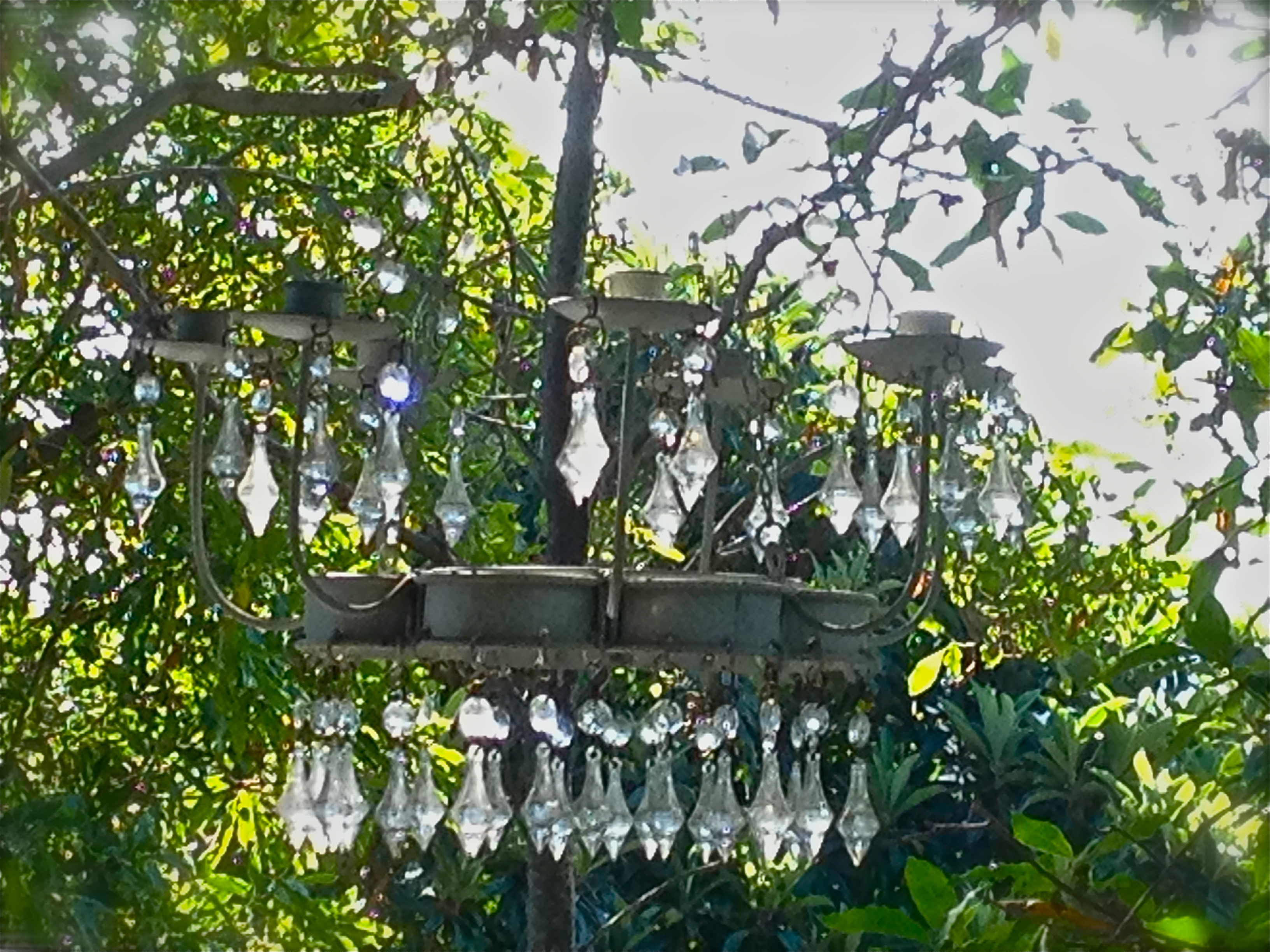 It smells like the sun is rising now and the air is warming, awakening.  As the dew evaporates the scent of earth, renewal and another new day wafts onto my private treetop nest.
Earlier, the air was cool and lighter.  I needed a jacket over my pj's, a soft, woven blanket wrapped around my legs.  I lingered and drank coffee.  The love of my life read the paper, I wrote in my daily journal.
Then, I just sat there in thought, curled up like a fluffy kitten.  I observed and inhaled the immediate surroundings.  With satisfaction I panned the panorama.  I congratulated myself on the comfort and style of our new furniture.  With pleasant anticipation, I picked up a pencil and the crypto quote puzzle. Pensively, I pondered and tried out a couple of combinations, but to no avail.
Then I remembered that all's well in my world, if I say so.  It's ok, if I see it so.  Look beyond the obvious, I tell myself.  Look for the odd placement or a bump in the repeat of the pattern. Aha!  That's when I cracked the crypto quote:
"Other things may change us, but we start and end with family." – Anthony Brandt.
How true, I thought.  At least, if you are lucky…
I saw my friend, R, surrounded by family day and night, round the clock, while in hospice at her parent's home, in her childhood bedroom, a Tinker bell switch plate still in place on her wall.  The moment she passed and for a full eight hours after she passed, her entire family from far and wide milled around her final resting position.  Holding hands, they prayed with tears streaming.  As a farewell, they sang Samoan dirges and Polynesian gospel-like, very pretty and swaying like the wind kind of songs.  I wept when her sister interpreted them for me.  The poetic genius of the lyrics made you long for the heavens.  The pitch and tone made you rejoice.
Unlike others stricken with cancer, her skin was smooth, silken, unbruised, unmarked, glowing and translucent.  Her sturdy body retained its structure.  The novelty was how still she reposed for R was always fidgeting and in motion even in delirium, especially during shavasna (corpse pose) when I taught yoga.
I think of her now, this morning, as my muse, perhaps just for today; her ashes sprinkled over the edge of my balcony.  Her voice clear in my head, pronouncing my name with a lilt, a certain strange accent, like no one else has ever uttered.  "Saceeeelya" she announces lovingly and with familiarity, like she is presenting me to others in a room, a huge smile and an embrace attached.
Chandeliers of iron and crystal.  Perhaps two parts of the brain.  Definitely two different sides and moods inside of me.  Two essential multi – faceted identities exposed in the wilderness of the soul.