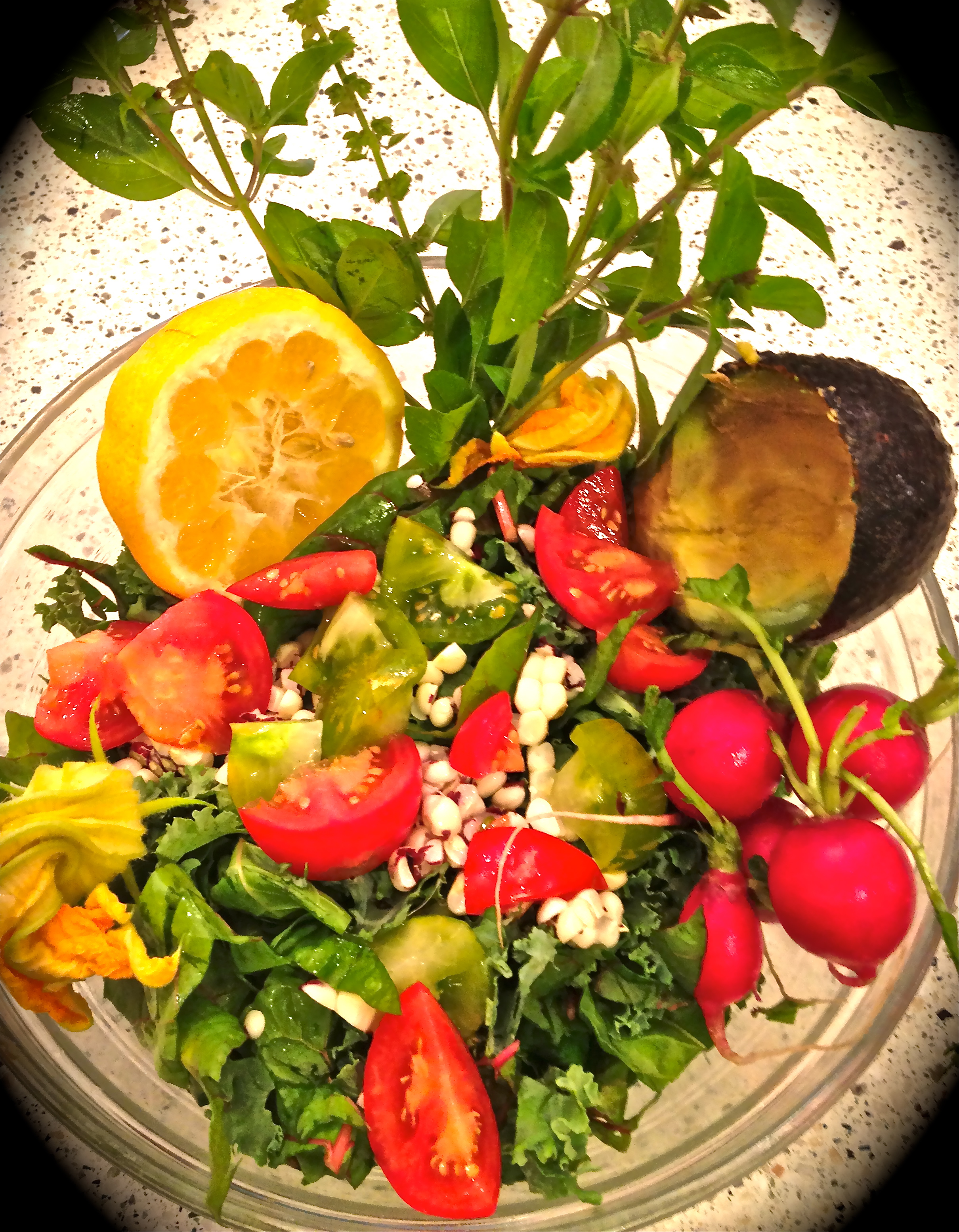 I worked in my garden today after walking with my buddy and harvested more bounty for an impromptu salad for lunch. First, I weeded, I watered and I lavished attention.  Then, once in the kitchen,  I plucked, washed and prepared squash blossoms, raw corn kernels, two types of tomatoes, swiss chard, kale, basil and a lemon from our backyard.  Avocado, courtesy of my neighbor.  Radishes, organic from Mother's.  I carved out the meat of the avocado, squeezed the lemon juice, picked the leaves and chopped up the basil and blossoms.  Then, I added freshly grated Parmigiano Reggiano from Italy, raw organic olive oil and Cecilia's sea salt mix.  Once tossed, I sat down outside, contemplating my garden as I overlooked it from my patio, and ate the fresh generosity from Mother Earth with care and attention to every nuance of texture, flavor and complexity in my bowl.  I observed butterflies, dragonflies, a diversity of birds and watched the breeze sweep my CA pepper tree's softly hanging branches like it was blowing the feathers on a boa.  Light and gentle.   My fountain trickled behind me.
I WAS in prayer, I WAS in the moment and I WAS one with.
Content.
Nature, music and food restores me, inspires me and fills me with gratitude.
Love abounds.  Beauty is prolific.
The perfect dessert?  A slice of raw, organic cheddar cheese with an organic, juicy, fuzzy summer peach and a cup of organic rose hip tea.
Blissed out with Blessings