Well,  I guess I have a love affair with this delicious place.  My friend is permitting me to use her likeness and I want to thank her for her company and gifts.  We are both from back east, found each other at yoga teacher training here in CA and have enjoyed being roomies at retreats in Big Bear, Palm Springs and Ojai.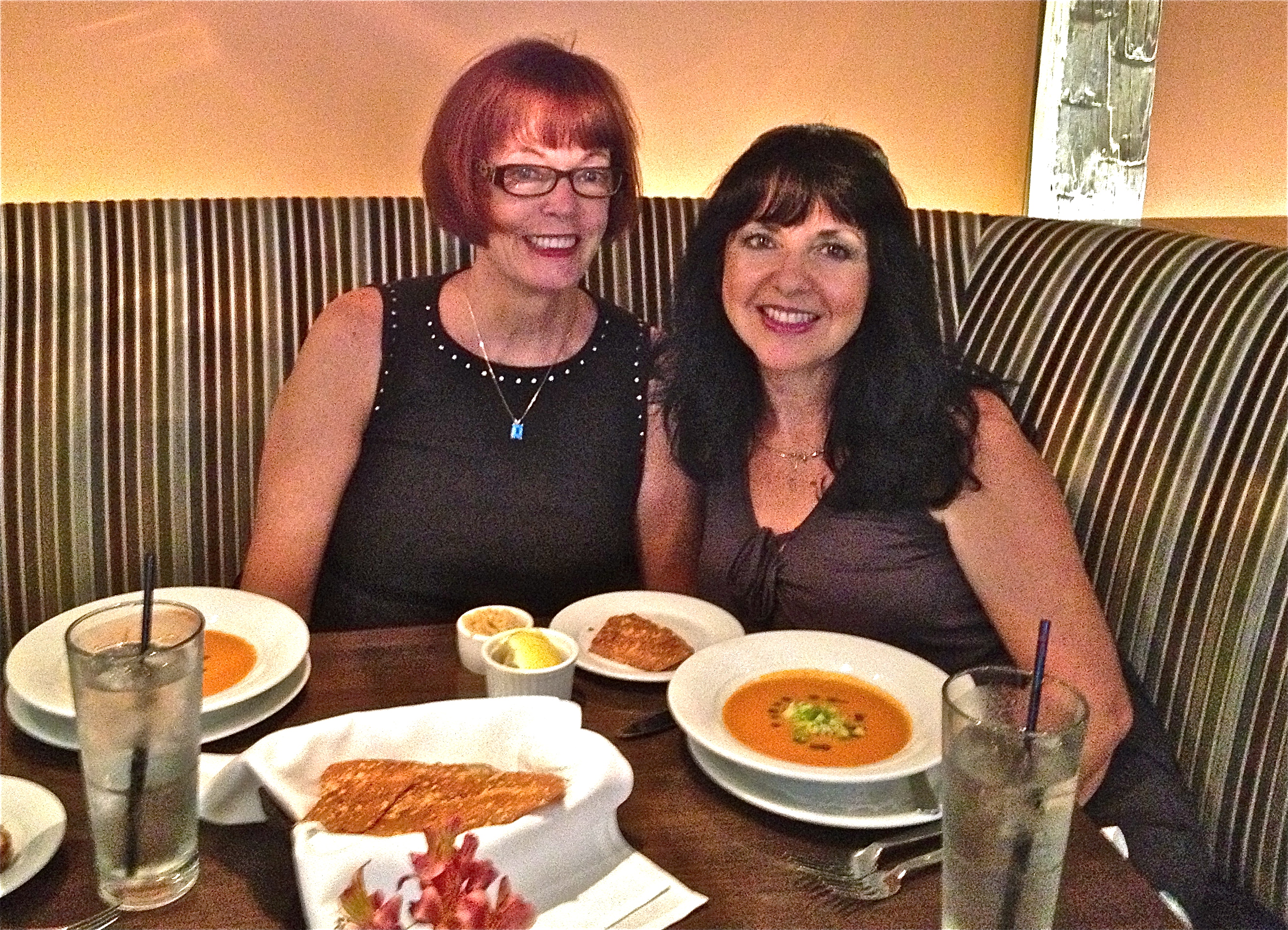 What keeps me visiting Canyon in Anaheim Hills and wanting to share it with others, is the freshness, artfulness and execution of the dishes.  It doesn't hurt that the Lunch Tasting Menu is just $15.  And how intriguing – it changes week to week to reflect the produce that is in season!!
I remember last November partaking of a pumpkin trifle dessert in parfait form with maple ice cream.  Chef Rich Mead shows regard and even adoration for the CA bounty of seasonal and local ingredients.
I couldn't even get the components for the appetizer for that price – not to mention the labor, creativity and thoughtfulness that clearly resonates in audacious, complex and layered yet subtle flavors.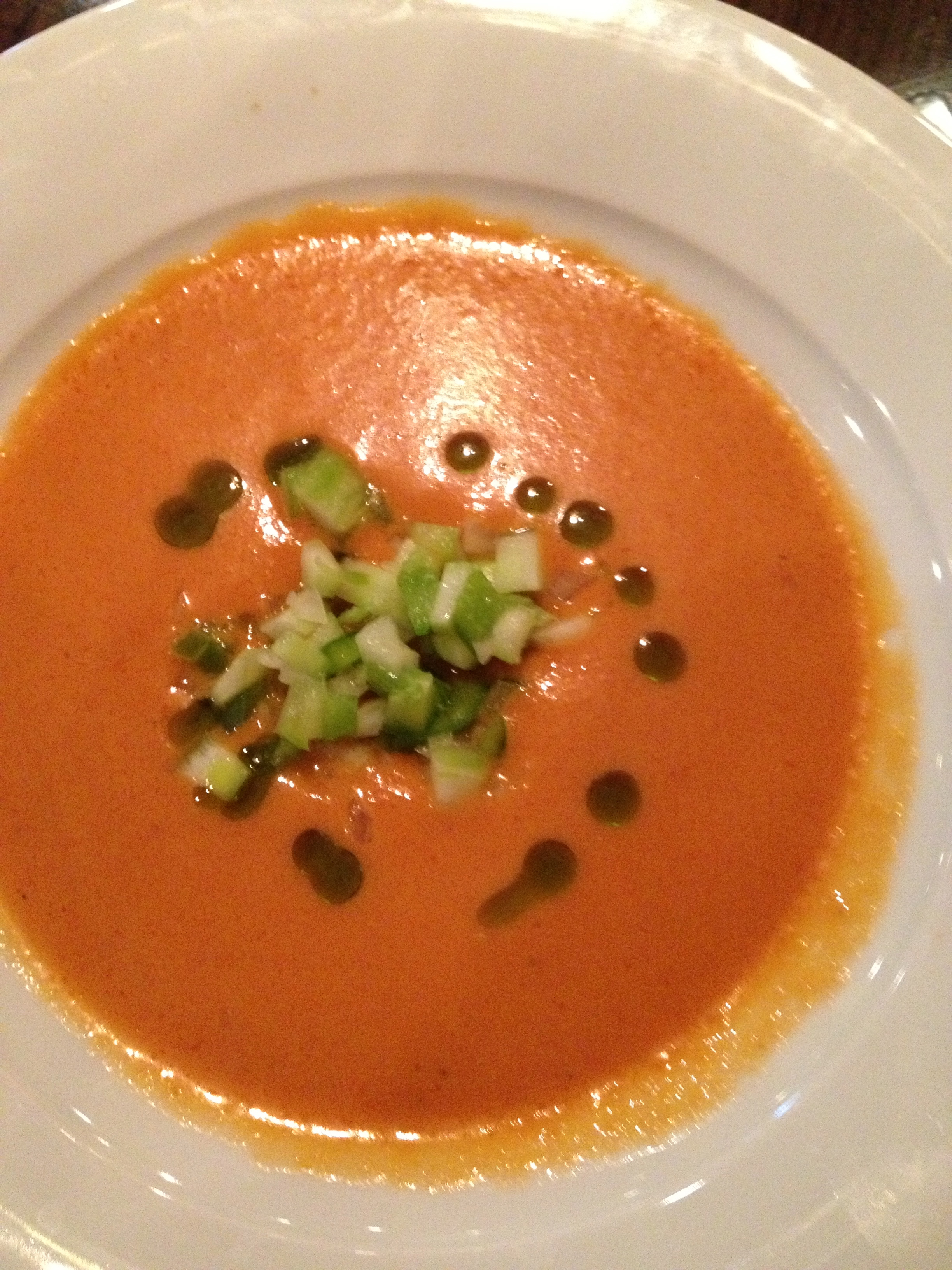 Chilled Roasted Schaner Farm's Heirloom Tomato Soup with onion and bell peppers, cucumber relish and dots of basil oil.
This was a tangy gazpacho made smooth with cream.  I would have preferred less or no peppers, but that is just me complaining about raw pepper in any dish.  My luncheon companion thought it was divine just the way it was.  The teeny diced up cucumbers still held their crunch and it was a clever juxtaposition to the elegant puree.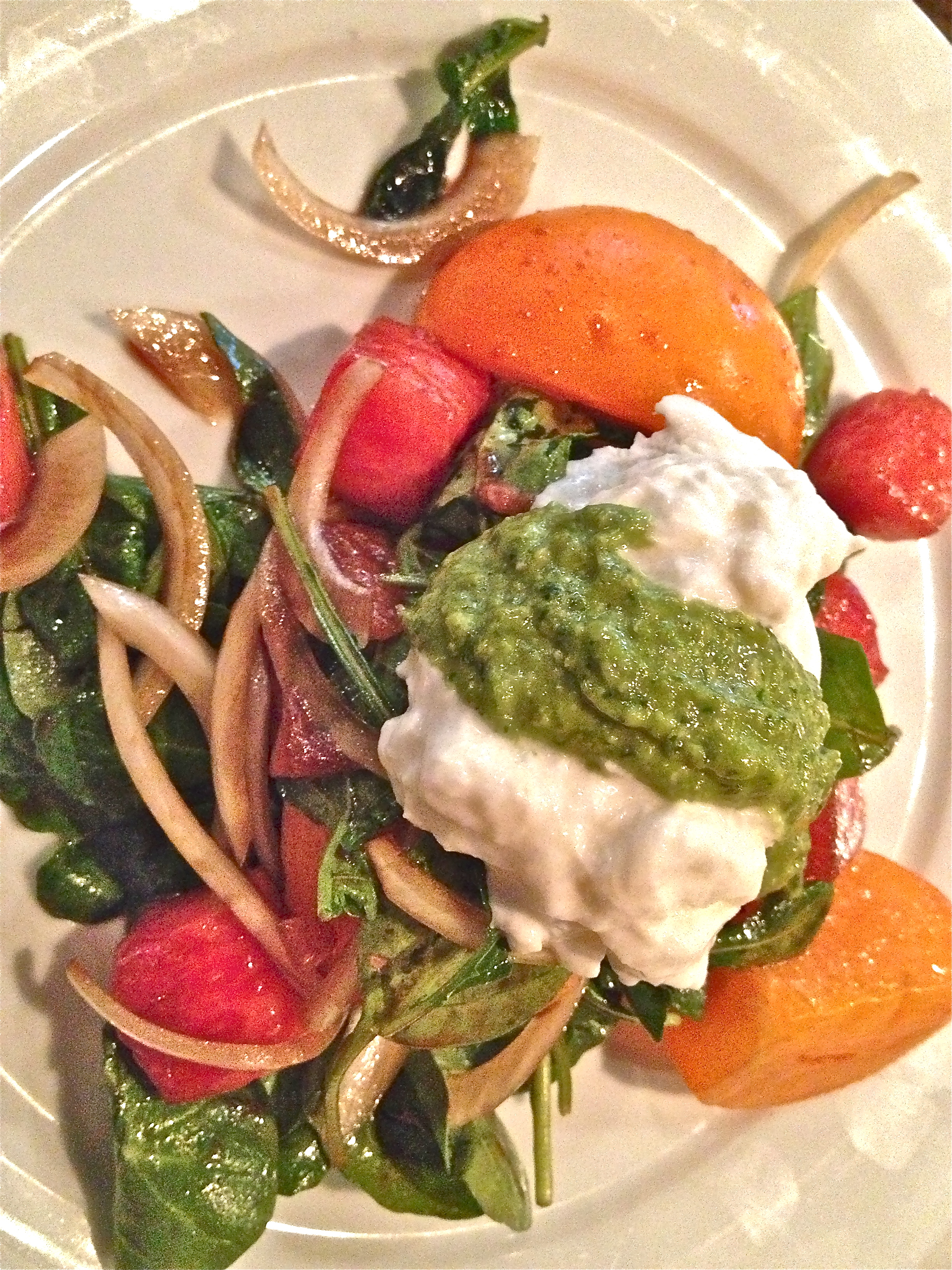 Heirloom Tomato and Watermelon Salad with burrata cheese, sweet onions and pesto.
I can't seem to get enough pesto these days.  The thinly shaved onions draped over the entree had been dressed in balsamic vinaigrette making them soft, supple and removing any sharpness.  The burrata seemed to melt in your mouth.
What I love, is how the salads are served almost at room temperature here so the tomatoes retain their authenticity. The watermelon was a sweet, crunchy surprise.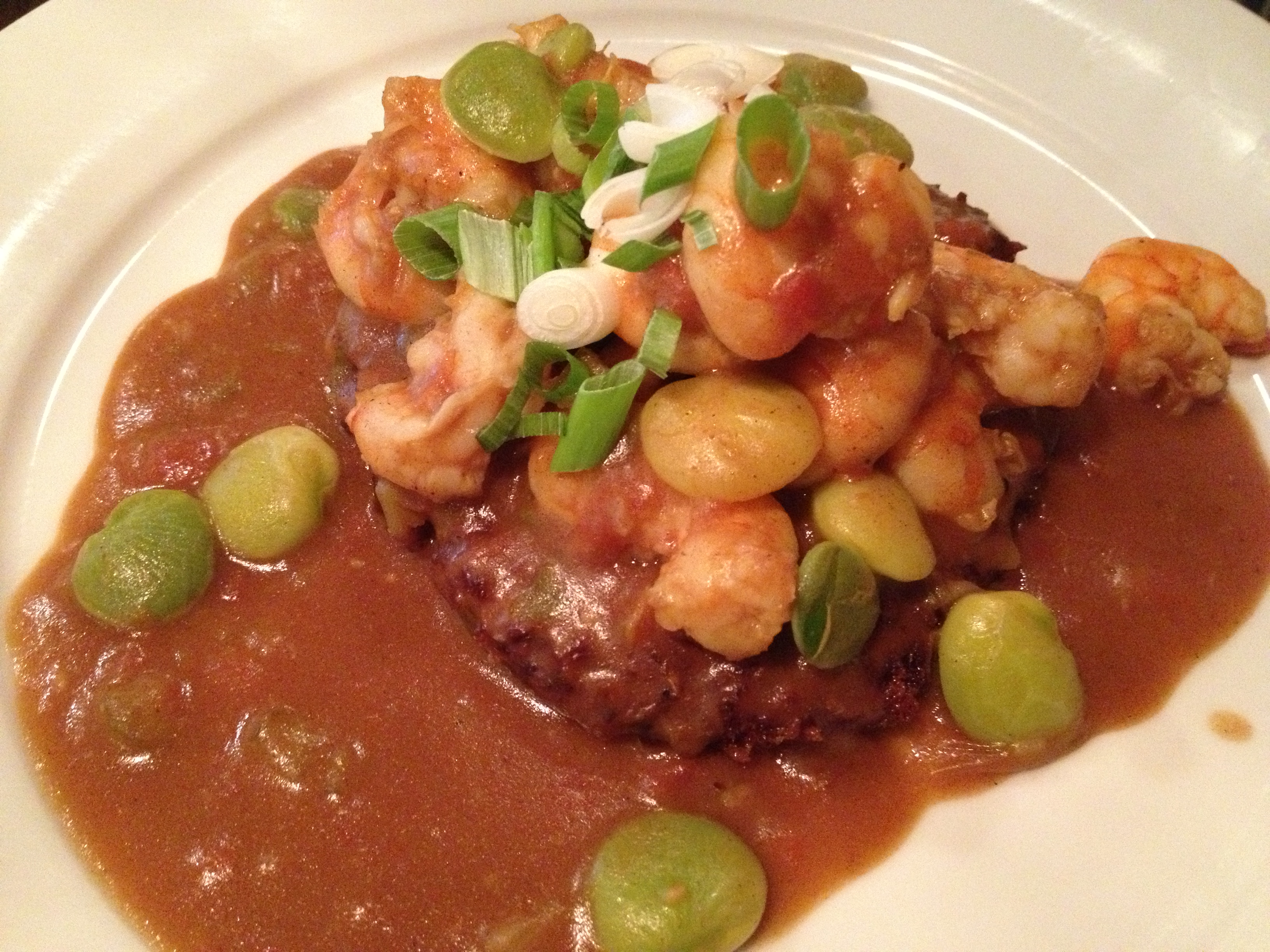 Shrimp over Fried Green Tomatoes in a Creole Sauce with fresh lima beans and scallions.
The tomatoes were battered and fried last minute keeping them crispy not soggy.  The lima beans were fresh and al dente, full of buttery flavor.
My friend was concerned and skeptical about ordering the only other entree on the prix fixe menu because she has never liked lima beans, but it just goes to show how when produce is at its height and is treated with respect, it can make a believer out of most anyone.
I saw her eat them with pleasure and possibly disbelief.   I hated mushrooms until I had them fresh, not canned,  sautéed in olive oil with parsley and garlic.  So, I understand.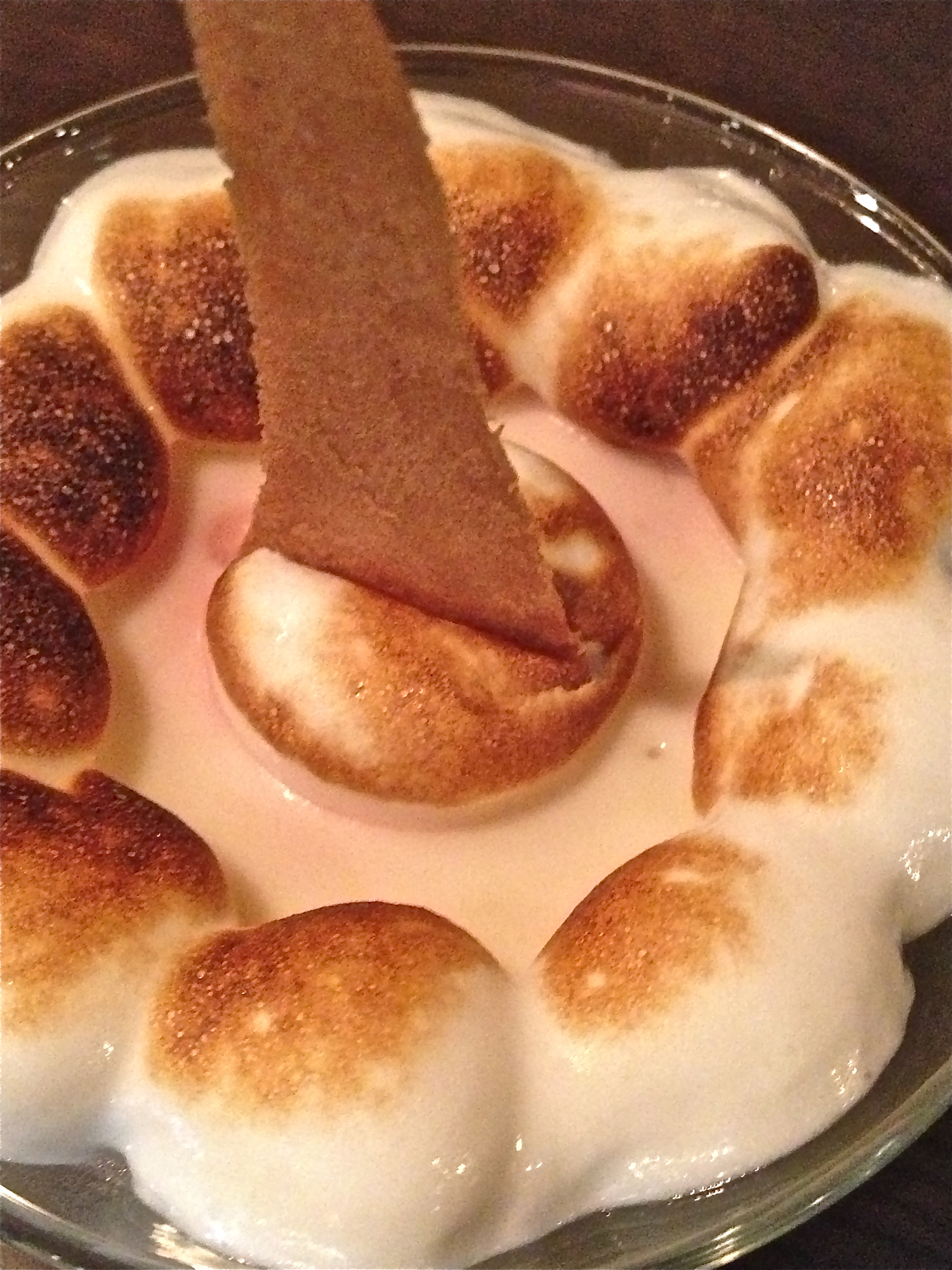 Tenerelli Farm's Satsuma Plum and Lemon Pot au Creme with toasted French meringue and tuile cookie
Last luncheon, we had the plum with lemon too but this is a new twist on the same combo. This dessert came in the cutest, littlest martini glass.  At first glance I thought I had been given mini marshmallows but upon further review, I encountered carmelized pillows of merengue.
Then my spoon dipped into a creamy, zesty lemon cream.  As I dug deep, chopped up plums in syrup were lurking at the bottom of the base of the triangular shape, waiting to be scooped up and brought up through the surfaces to reach my anticipatory gaze and salivating grin.
Yum.