After thoroughly washing and drying fresh kale, tear leafy parts from the firm center vein and place in a bowl.  Discard the center vein into your compost pile.
Hint:  I keep a bowl for scraps by my cutting board and then toss veggie/fruit/eggshell/coffee grinds and tea (never meat/bones/oil) into my outdoor revolving compost bins.
Preheat oven to the highest heat.  Add 2 tablespoons of favorite oil, a dash of turmeric, chili powder and salt, and 2 teaspoons of sugar.  Toss and place evenly over a flat tray.
Hint:  I used non-stick aluminum foil because I abhor cleaning stuck on anything.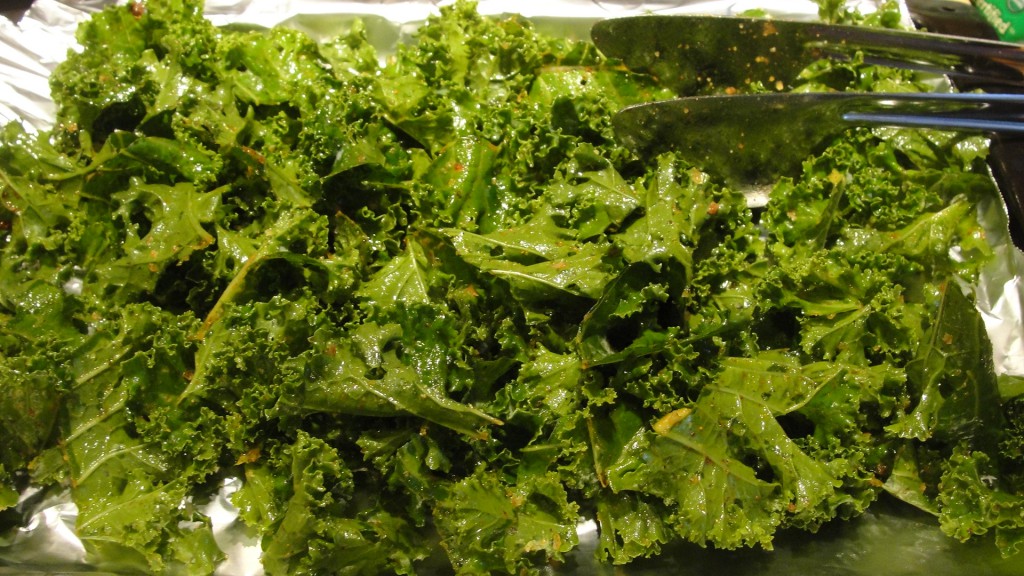 Toast in a convection oven at highest heat for @ 7-10 minutes or bake at 500 degrees for 10 – 15 minutes.  Keep an eye on your kale chips and they will crisp without burning.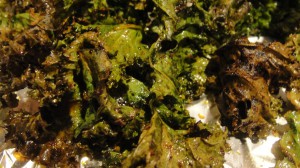 Serve as a snack, as a garnish or sprinkled over salad. I enjoyed mine over mashed cauliflower that tasted just like mashed potatoes.
Check in tomorrow for mashed cauliflower.