Guess who is getting a massage?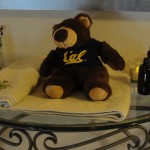 My senior's project was to learn how to give a massage.  After taking a class with me at a local massage school, her visual portion included this adorable series of the Cal Bear at "the spa", getting a massage.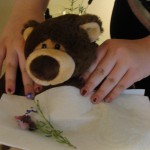 Look at those magic hands and how relaxed the Cal Bear seems.  Nothing like a day at the spa…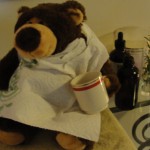 And relaxing with a good cup of herbal tea after.
I hope your long weekend is filled with humor and repose as well as respect and deference for the Memorial Day holiday.