First!  To my NYC Junior!  I cannot believe you will be a senior next year!!  
We are so very proud of you and we will see you real soon!
My youngest, the last freshmen, is home and we love it. Lots of laundry!!!
Next – Ducks lost by only one measly goal to LA Kings on Wednesday at Staple Center.  We would have had it wrapped up.  Tonight is game 7 and this is it folks.  If we win tonight, we continue into Round 3.  If we lose this evening, I will cry and it will be over this season for us loyal Duck Fans.  I am so glad it will be nice and cool at the Honda Center tonight.
And furthermore – At Bin 189 restaurant in the Gorgeous Luxurious Lake Arrowhead Resort, they cater to dog owners by bringing them menus, food and drinks into the lobby area so you can sit comfortably and munch with your dog in tow.  Only service dogs are allowed in any food area such as the grocers or dining establishments.  Many places with outdoor patios do allow our little Cindi.
Check earlier posts – just type in "resort" or Y2 – Day 59.
The Resort has a gargantuan, recently redone mountain ski resort lobby -a la Aspen or Vail –  with three story high ceilings, a perpetually lit, rock fireplace on an entire wall and brilliantly executed arrangements of extensive eating and lounging areas to choose from.
We sat inside on bar stools, sharing a tall, small bar table, overlooking the pool, which overlooks pines on the shore and then beyond, the deep blue lake.  We had the run of the place and were excited to enjoy some quiet 'couple' time after strolling along the unusually busy lake shops together.  Cindi was by our feet on the custom carpet, relaxing.  We were in the far corner and her vantage point was ideal to scan the entire expanse of the hotel floor.  We brought her treats so we wouldn't be dining without her and she seemed quite satisfied.
Then in comes the hugest St. Bernard (I will call 'Tiny') that ever existed on this planet and its teeny owner and family. This occurred a few minutes after we had settled in and they sat one table away from us.  There was at the time, at least eight other locations they could have chosen.  Earlier, as they entered the restaurant and were seated inside, they saw us with Cindi asking the maitre d' politely if we could dine in the lobby with Cindi and attaining a server and menu.  They must have wanted to dine with their pooch pretty badly too because they left the dining room with half eaten plates in hand, retrieved 'Tiny' from I imagine their hotel room and proceeded to approach us.  Cindi was vigilant and barked at the canine every time it had the audacity to come near us – a la David and Goliath.  I swear, 'Tiny' looked like two people in a dog costume and Cindi looked like a black porcelain paperweight on your desk that had fallen off and landed on the floor.
Soon, the outdoor seating right outside our window was being appropriated by an ever growing bunch of people that all knew each other, perhaps for a wedding we surmised, holding on to beer bottles from some deli, opening up and sharing paper bags full of fast food and dragging chairs, benches and tables from all over the pool deck, blocking our view of the lake.
So much for Romance!
VEGAN Lunch choices were listed and marked with a leaf.  Although I do not see why the Edamame wouldn't be vegan too.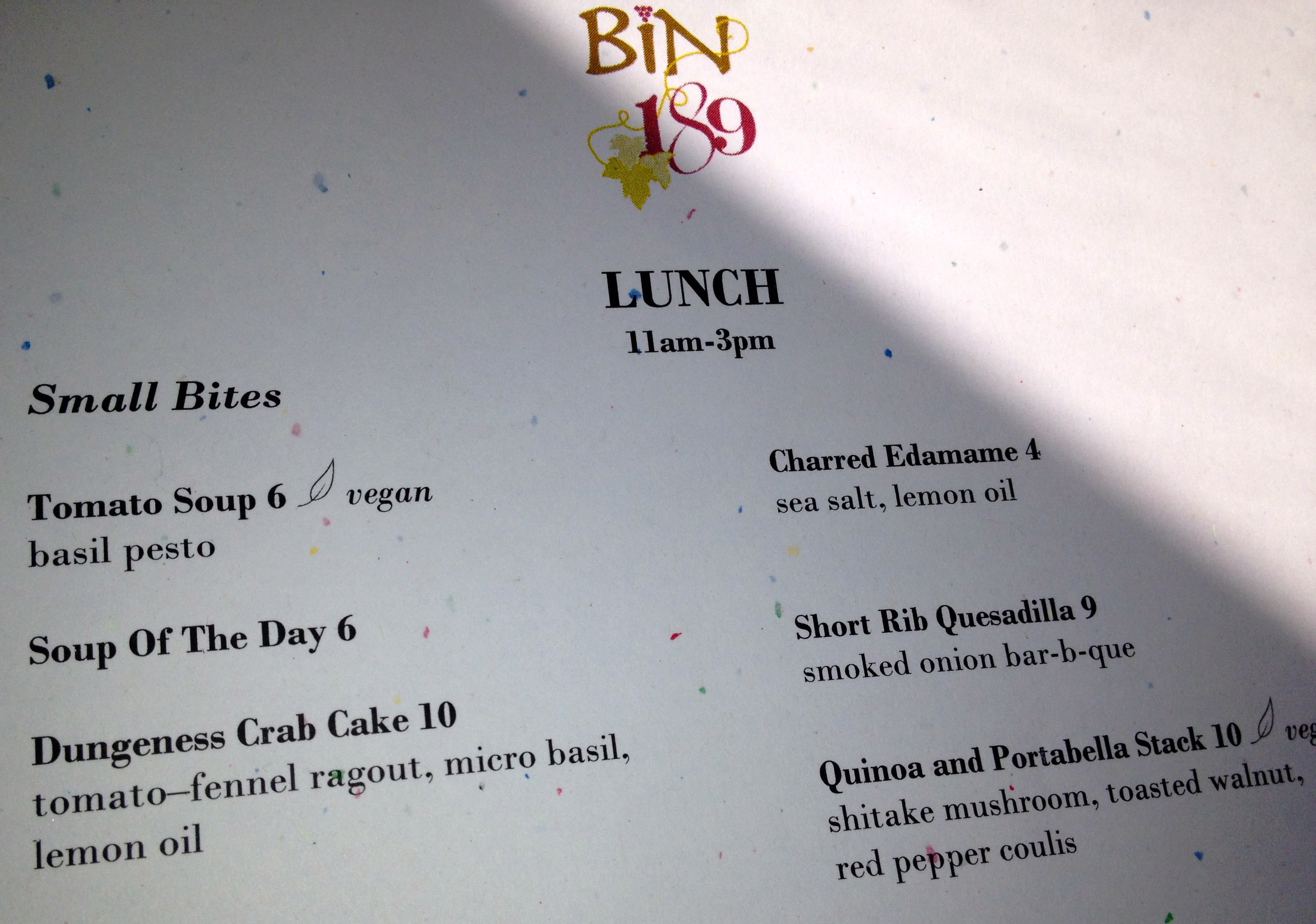 I chose the Tomato Pesto Soup and it was the best I had ever tasted.  It was creamy, spicy and hearty.  I ordered one to go for dinner because it was so delicious.  The Quinoa stack was prepared by a different chef and was not at all seasoned, rather bland, but it looked great for picture taking before I snapped this i-phone shot.  It needed more of the red pepper coulis.  The fried herbs on top were a much appreciated surprise.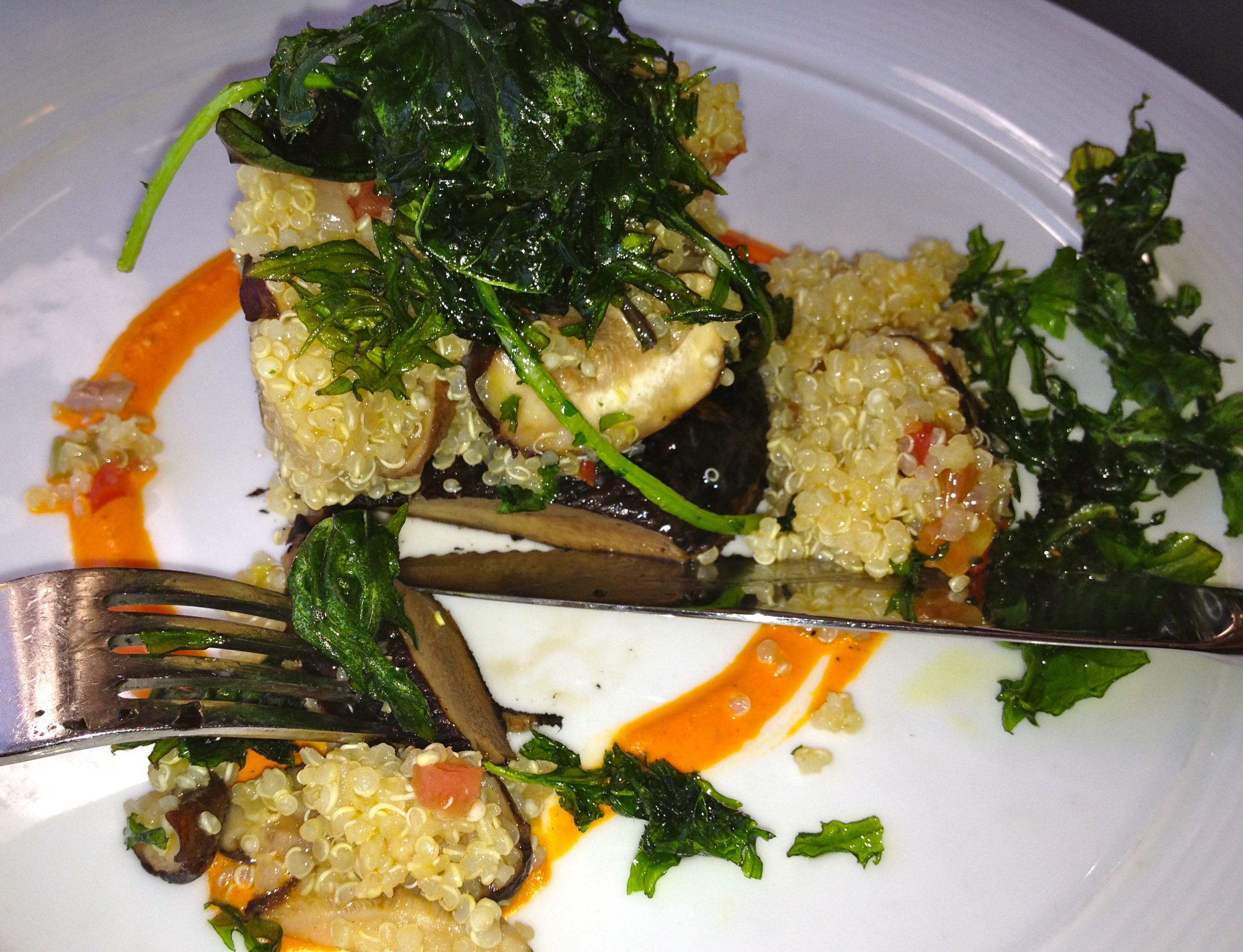 LET'S GO DUCKS!!!!!!